Product Description
High Quality & Fast Delivery & Made to Order Zinc-Plated S Type Steel Agricultural Chain with Attachment
 
Product Description

1. Material: Alloy steel & Stainless steel
2. Surface treatment: Shot peening / Zinc-plated / Nickel-plated / Dacromet-plated
3. Characteristic: Chain plate hole finally passed ball extrusion to ensure maximum fatigue resistance, parts of shot peening treatment makes the chain and the sleeve has a higher fatigue strength.
 
Product name 
Zinc-Plated S Type Steel Agricultural Chain With Attachment
Materials Available 
1. Stainless Steel: SS304, SS316, etc
2. Alloy Steel: 45Mn, 42CrMo, etc
3. OEM according to your request
Surface Treatment
Shot peening, Polishing, Oxygenation, Blackening, Zinc-plated, Nickel-plated, Anodized, etc.
Characteristic
Fire Resistant, Oil Resistant, Heat Resistant
Application
Agricultural machine
Design criterion
ISO DIN ANSI & Customer's Drawing
Size
Customer's Drawing & ISO standard 
Package
Wooden Case / Container and pallet, or made-to-order
Certificate
ISO9001: 2008 
Advantage
First quality, best service, competitive price, fast delivery
Delivery Time
20 days for samples. 45 days for official order.
Detailed Photos

View more products,please click here…

Company Profile
| | |
| --- | --- |
| Material: | Alloy/Carbon Steel |
| Sample: | for Free |
| Transport Package: | Plastic Bag+Carton Box+Plywood Case |
| Specification: | S55K1, S62A2K1 |
| Trademark: | made-to-order |
| Origin: | China |
Samples:

US$ 0/Meter

1 Meter(Min.Order)

|
Request Sample
Customization:

Available

|

Customized Request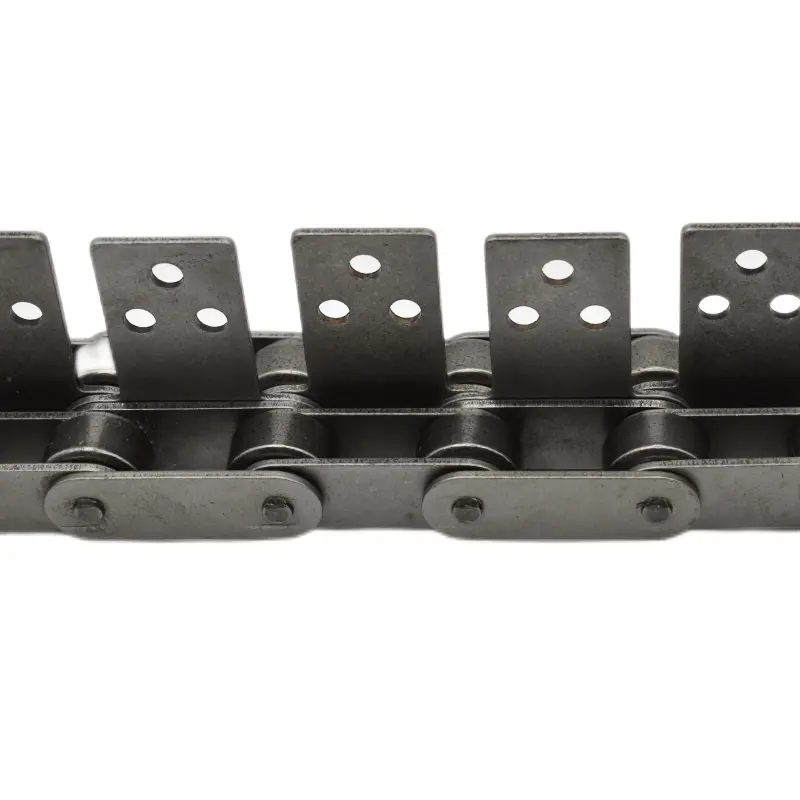 Can agricultural chains be used in forestry and timber harvesting equipment?
Yes, agricultural chains can be used in forestry and timber harvesting equipment for specific applications. While they are primarily designed for agricultural use, their robust construction and ability to handle heavy loads make them suitable for certain tasks in the forestry industry.
In forestry and timber harvesting equipment, agricultural chains are often employed in tasks such as:
Conveying Logs: Agricultural conveyor chains can be utilized in conveyor systems to transport logs from one location to another within a processing facility or sawmill.
Debarking: Pintle chains or roller chains may be used in debarking equipment to remove the bark from logs before further processing.
Material Handling: Agricultural chains with appropriate attachments can be applied in material handling equipment to lift, move, or stack timber and logs.
It's important to note that while agricultural chains can be used in certain forestry applications, there are specialized chains explicitly designed for the forestry and logging industry, such as forestry chains and chainsaw chains. These specialized chains are tailored to handle the unique challenges posed by cutting and processing timber in the forest.
When considering the use of agricultural chains in forestry equipment, it's crucial to assess the specific requirements of the task and ensure that the chain's design and strength are suitable for the intended application. Regular maintenance and inspection should also be carried out to ensure safe and efficient operation.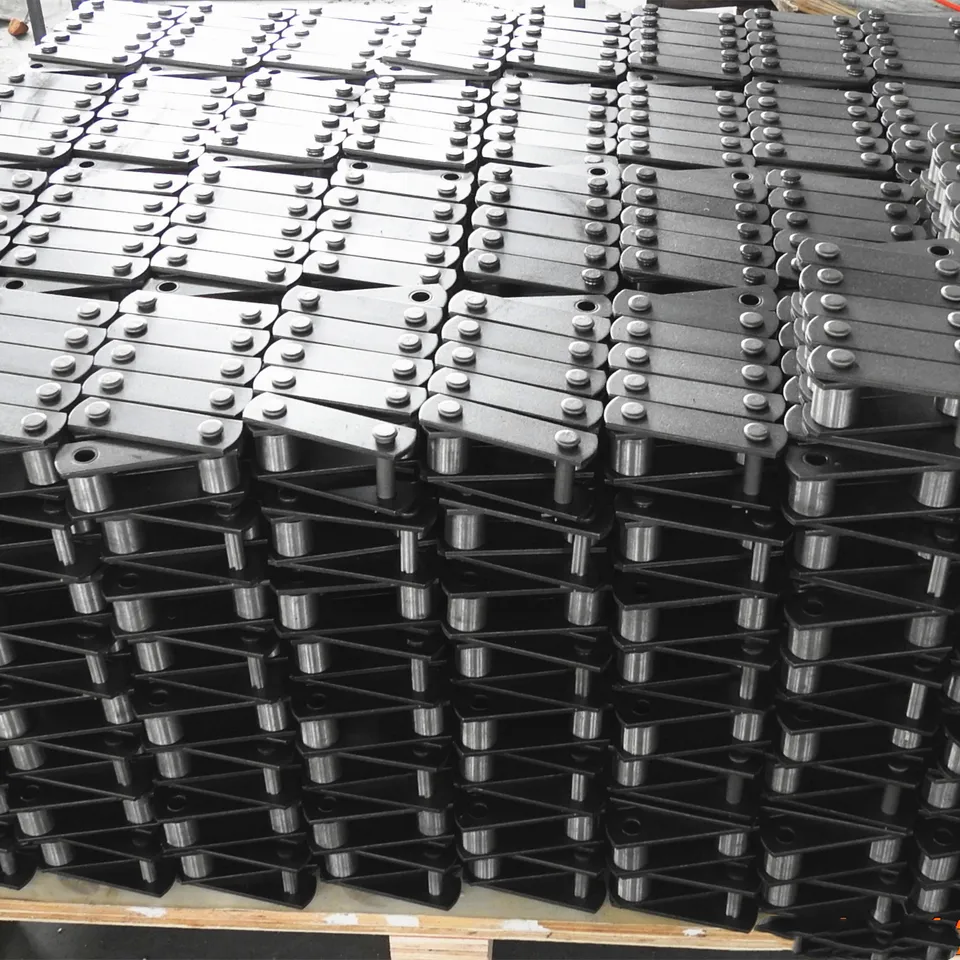 How do agricultural chains handle side loads and lateral forces?
Agricultural chains are designed to handle various forces and loads encountered in farming equipment, including side loads and lateral forces. These chains are built to be robust and durable, capable of withstanding the demanding conditions present in agricultural applications. Here's how agricultural chains handle side loads and lateral forces:
High-Strength Materials: Agricultural chains are constructed using high-strength materials, such as alloy steel, which provides excellent tensile and fatigue strength. These materials enable the chains to endure lateral forces without deformation or failure.
Advanced Engineering: The design and engineering of agricultural chains take into account the expected forces and loads in farming operations. The links and components are precisely engineered to distribute loads evenly and prevent stress concentration points.
Side Bow Chain: Some agricultural chains, like the "side bow chain" or "side flex chain," are specifically designed to handle side loads and bending forces. These chains feature special link shapes that allow for lateral movement, accommodating side loads without compromising the chain's integrity.
Proper Alignment: Ensuring proper alignment of the chain and sprockets is essential to minimize side loads and lateral forces. Misalignment can increase stress on the chain, leading to premature wear and potential failure.
Lubrication: Regular lubrication of agricultural chains is vital to reduce friction and wear, especially when subjected to side loads. Proper lubrication helps maintain smooth operation and extends the chain's service life.
Maintenance: Regular maintenance and inspection of agricultural chains allow for early detection of wear or damage caused by side loads. Replacing worn-out or damaged components promptly helps prevent chain failure.
By employing these design features and maintenance practices, agricultural chains can effectively handle side loads and lateral forces, ensuring reliable and safe operation in farming equipment.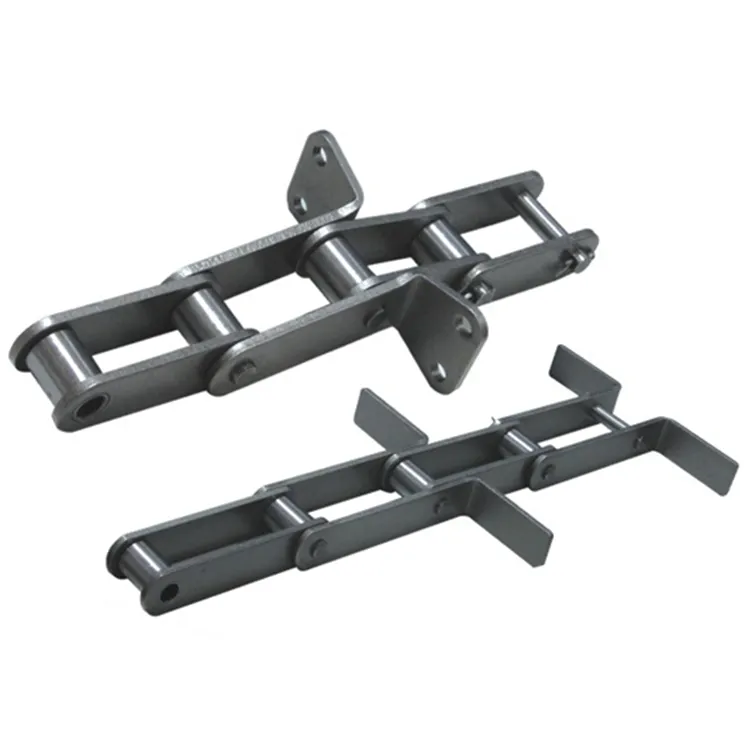 How does an agricultural chain differ from a standard roller chain?
Agricultural chains and standard roller chains share similarities in their basic design, consisting of interconnected links with pins and bushings. However, there are key differences that make agricultural chains suitable for specific farming applications:
Design: Agricultural chains often have a larger pitch and broader plates compared to standard roller chains. The larger pitch allows for better performance in applications where the chain needs to handle heavier loads and resist the accumulation of debris.
Attachments: Agricultural chains come with various attachments, such as slats, buckets, or other specialized devices. These attachments allow the chain to interact with specific agricultural equipment, such as combine harvesters, spreaders, or planters.
Coatings: Some agricultural chains feature coatings or treatments to improve their resistance to corrosion and wear in harsh environments. These coatings may include zinc plating or other types of protective finishes.
Material: While both agricultural and standard roller chains can be made from similar materials, the specific material composition may vary. Agricultural chains often utilize materials that enhance their strength and resistance to agricultural chemicals, fertilizers, and outdoor elements.
Application: Agricultural chains are purpose-built for use in various farming equipment and machinery, such as tractors, harvesters, and seeders. They are designed to withstand the demanding conditions of agricultural operations, including exposure to dirt, debris, and challenging weather conditions.
Overall, the key differences lie in the design, attachments, and specific material choices, allowing agricultural chains to excel in the unique challenges and requirements of farming applications.



editor by CX 2023-11-01