Product Description
MODEL NO.: CA550, CA557, CA620, CA624, CA645Z etc.
HangZhou Power Transmission company has specialized producing chains and sprocket products for over
10 years. Rising from domestic market, now with abundant industry experience, it has become an important supplier and exporter in South China, and set up its own qualified brands.
QUALITY is the essence of long term business and support to our customers. Production is strictly controlled from origin, normal material choices : 45Mn, 30GeMnTi, #10, 20Mn, Stainless Steel, Customized material, through strict technique standards of ANSI, DIN, ISO.
Material chosen
Well wire-cutting
Plate shot peening
Bluing
Well through heat-treatment
Carburizing
Quenching
Tempering
Oiling/greasing
Pre-stretched
Pre-running
XMPOWER mainly cover products as below:
Drive Chains
A Series Short Pitch Precision Roller Chains
B Series Short Pitch Precision Roller Chains
Heavy Series Short Pitch Roller Chains
Short Pitch Straight Side Plate chains
Agricultural Chains and Attachments
Oil field Roller Chains
Heavy-duty Cranked link Roller Chains
AB Series Double Pitch Conveyor Roller Chains
Coupling Chains
AB Series Straight Sidebar Roller Chain
Silent Chains
PIV Chains
Conveyor Chains
Double Pitch Stright Side Plate Conveyor Chains (A & B Series)
Double Pitch Large Roller Conveyor Chains (A & B Series)
Attachments A1, K1, SA1, SK1, WA1, WA2, WK1, WK2, AA1, KK1, SAA1, SKK1, D1, D3, etc.
Hollow Pin Chains (B/BUSH/ROLLER Type)
Side Bow Roller Chains
Double Flex Chains
Double Plus Chains
Sharp Top Chains
Flat-top Chains
FV/FVT/FVC Series Conveyor chains
M/MT/MC Series Conveyor chains
Side Roller Conveyor Chains
Top Roller Conveyor Chains
Lumber Conveyor Chains
Mining and Metallurgy Conveyor Chains
Leaf Chains
AL Series Leaf Chains
BL Series Leaf Chains
LL Series Leaf Chains
 
Special Chains
Palm Oil Chains
Sugar Chains
Tobacco Machinery Chains
Grain Machine Chains
Beer Bottling Conveyor Roller Chains
Coal Chains
Crawler Asphalt Paver Conveyor Chains
Cold Drink Food Processing Chains
Welded Steel Chains
Water Dispose Chains
Motorcycle 
Motorcycle chains 
Engine Chains
SPROCKETS & Gear
1045 Steel Sprockets, ANSI/DIN standards
Module Gears
Motorcycle sprockets
Bevel Gears
Stainless Steel Sprockets
Customized
All CZPT products are strictly checked before delivery to our customers. Tests have been conducted through material till finished product,
XMPOWER's expertise and commitment will be 1 of best choices as your reliable chain supplier.
In the light of our vision and mission, we constantly value our each partner, and work closely with each other to achieve satisfied solutions. We look CZPT to forging strong partnership with you and ensure long term progress!
Contact: CZPT Huang/Sales Manager/Transmission Dept.
HangZhou POWER TRANSMISSION IMP.& EXP.CO.,LTD
Add.:  #19 Bldg, #158, Canglindong Rd, Xihu (West Lake) Dis. Industrial Zone, 361000, HangZhou, China.
Branch: Yingbin Rd., HangZhou, HangZhou, ZHangZhoug, China
 
 
Web: xmpower
Shipping Cost:

Estimated freight per unit.





To be negotiated
| | |
| --- | --- |
| Standard or Nonstandard: | Standard |
| Application: | Agricultural Machinery |
| Surface Treatment: | Polishing |
Samples:

US$ 0/Piece

1 Piece(Min.Order)

|

Order Sample
Customization:

Available

|

Customized Request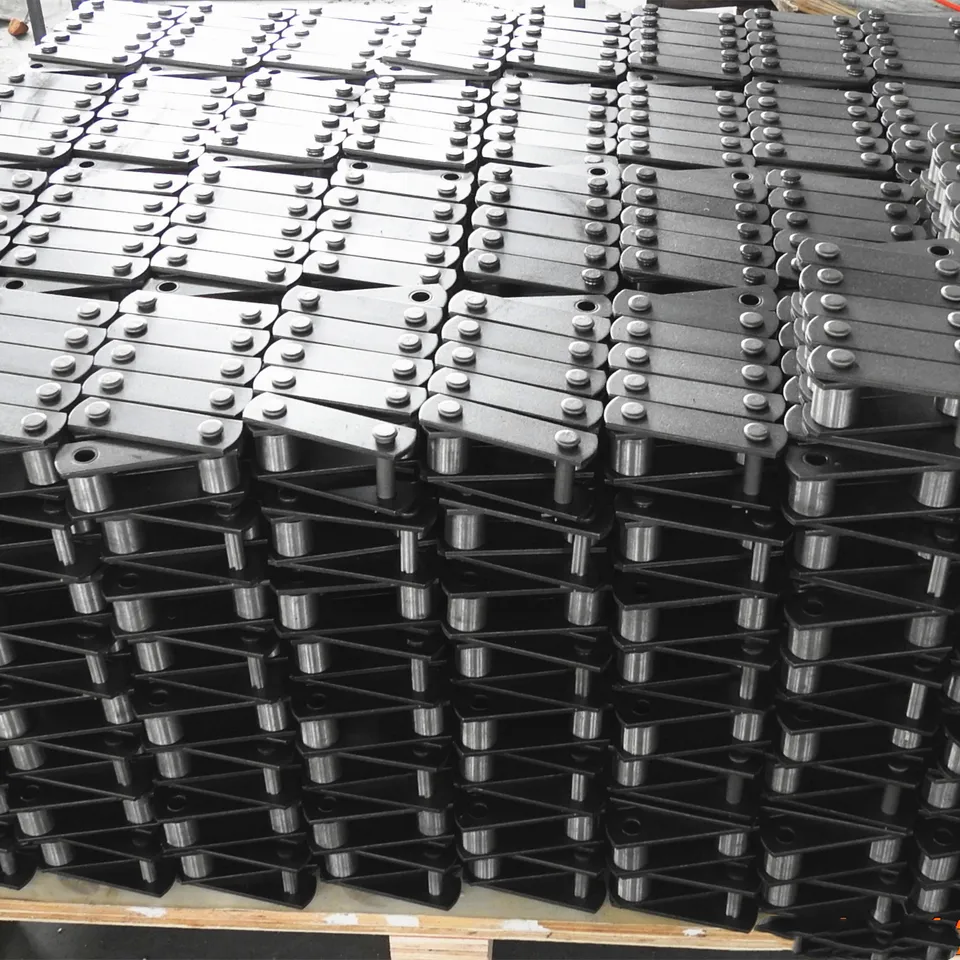 Can agricultural chains be used in post-harvest processing and packaging equipment?
Yes, agricultural chains can be used in post-harvest processing and packaging equipment to facilitate the efficient handling and transportation of agricultural products after they have been harvested. Here are some ways agricultural chains are utilized in post-harvest processing:
Conveying Systems: Agricultural chains are commonly used in conveyor systems to move harvested crops or produce through various processing stages. These chains can withstand the weight of the products and provide smooth and reliable transport, ensuring a continuous flow of materials during processing.
Elevators and Lifts: Post-harvest processing may involve elevating or lifting agricultural products to different levels for further processing or packaging. Agricultural chains, along with sprockets and sheaves, are used in elevators and lifts to handle vertical movements efficiently.
Sorting and Grading Machines: In post-harvest processing facilities, sorting and grading machines are employed to classify agricultural products based on size, quality, and other characteristics. Agricultural chains are integral components in these machines, ensuring precise and accurate movement of products through the sorting and grading processes.
Packaging Equipment: Agricultural chains are utilized in packaging equipment, such as bagging machines or carton sealing machines, to facilitate the packaging of processed agricultural products into containers or bags. These chains help in guiding and aligning the packages during the packaging process.
Washing and Cleaning Systems: After harvesting, some agricultural products may require washing or cleaning to remove dirt or debris. Agricultural chains are used in washing and cleaning systems to transport products through water baths or cleaning stations effectively.
The use of agricultural chains in post-harvest processing and packaging equipment enhances the overall efficiency and productivity of the agricultural supply chain. These chains are designed to withstand the demands of post-harvest operations, such as heavy loads, continuous operation, and exposure to varying environmental conditions. Additionally, agricultural chains are available in different materials and configurations to suit specific processing needs.
In conclusion, agricultural chains play a crucial role in post-harvest processing and packaging equipment, contributing to the seamless handling, sorting, and packaging of agricultural products, ultimately ensuring their quality and readiness for distribution and consumption.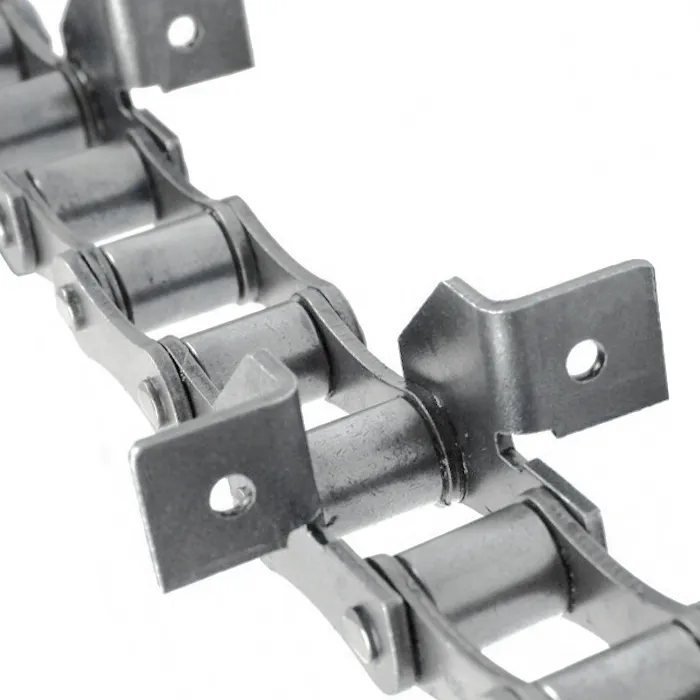 How do agricultural chains handle heavy loads and high torque requirements?
Agricultural chains are designed to handle heavy loads and high torque requirements commonly encountered in farming machinery. Here's how they achieve this:
High-Quality Materials: Agricultural chains are typically made from high-quality alloy steels that offer excellent tensile strength, toughness, and resistance to wear. These materials can withstand the stress and strain of heavy loads and high torque, ensuring the chain's integrity under demanding conditions.
Robust Design: The design of agricultural chains includes precision engineering to ensure optimal load distribution and efficient power transmission. The components are manufactured to specific dimensions, allowing them to mesh smoothly with sprockets and transmit torque effectively.
Large Contact Areas: Agricultural chains often have large contact areas with sprocket teeth, which helps distribute the load more evenly, reducing stress concentration on individual components. This design feature enhances the chain's ability to handle heavy loads and torque.
Heat Treatment: Many agricultural chains undergo heat treatment processes like carburizing or induction hardening. These treatments improve the chain's surface hardness, wear resistance, and fatigue strength, making it more capable of handling heavy loads and high torque without premature failure.
Preloading and Lubrication: Proper preloading of the chain during assembly and regular lubrication are essential to reduce friction and wear. Adequate lubrication also helps dissipate heat generated during operation, preventing excessive wear and elongation of the chain under heavy loads.
Regular Maintenance: Regular maintenance and inspection are vital to ensuring that agricultural chains remain in optimal condition. Periodic checks for signs of wear, proper tension, and lubrication help prevent unexpected failures and extend the chain's service life.
In conclusion, agricultural chains are built with robust materials, precise design, and appropriate treatments to handle heavy loads and high torque requirements effectively. When used and maintained correctly, they contribute to the reliable and efficient operation of various farming equipment.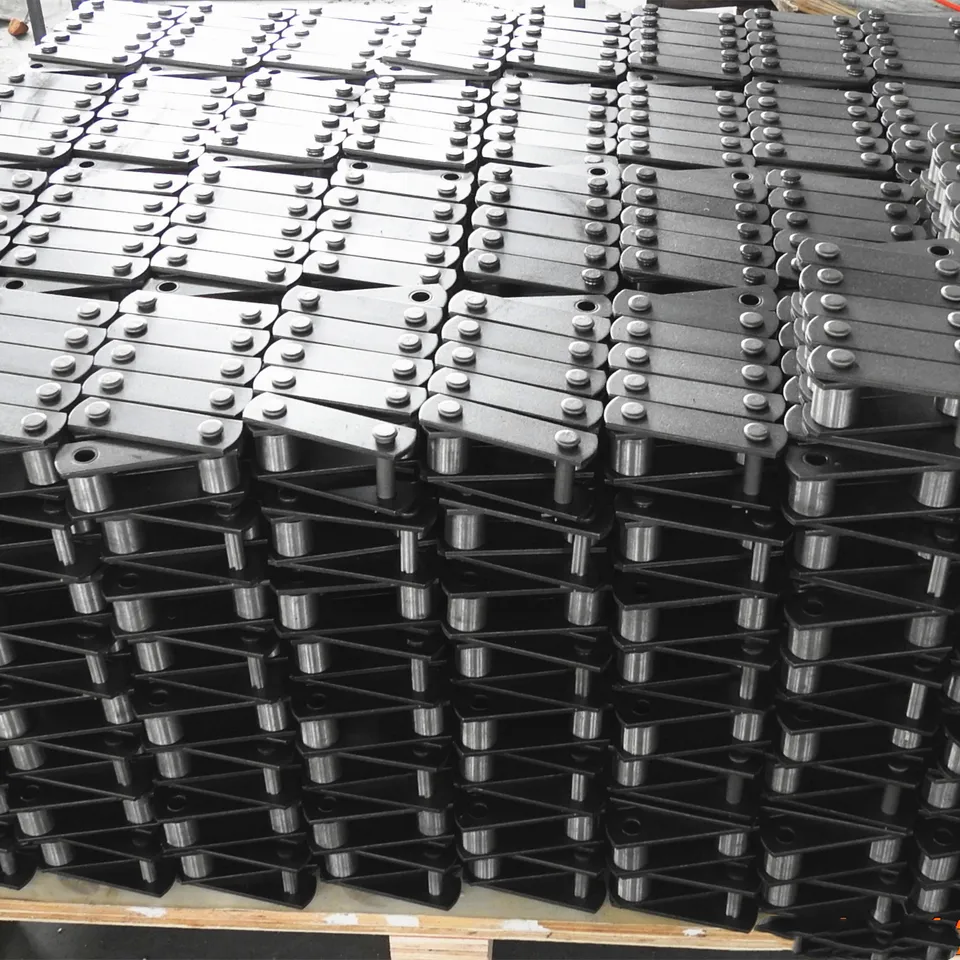 Can agricultural chains be used in different weather and climate conditions?
Yes, agricultural chains are designed to withstand a variety of weather and climate conditions commonly encountered in farming operations. These chains are built to be durable and reliable, making them suitable for use in diverse environments. Here are some considerations:
Hot and Dry Conditions: Agricultural chains can handle high temperatures and dry conditions commonly found in arid regions. Proper lubrication and maintenance are essential to prevent heat-related issues.
Cold and Freezing Conditions: In colder climates, agricultural chains can still function effectively with appropriate lubrication to prevent freezing and reduce wear.
Wet and Humid Conditions: Chains designed for agricultural use are often coated or made from materials that resist corrosion and rust, making them suitable for wet and humid environments.
Chemical Exposure: Some farming practices involve exposure to chemicals and fertilizers. Agricultural chains may have protective coatings or materials to withstand such exposure.
Extreme Weather Events: While agricultural chains can handle typical weather conditions, extreme events like hurricanes or floods may require temporary precautions or special protection.
Manufacturers consider these factors during the design and production of agricultural chains, ensuring they perform reliably in various weather and climate conditions. However, proper maintenance and adherence to manufacturer guidelines are crucial to maintaining the chains' functionality and longevity.



editor by CX 2023-08-29