Product Description
ZheJiang CZPT Conveying Equipment Co.,Ltd
Product Description
Bush roller chain(used in horizontal scraper conveyor)

1.Chains adopt high quality medium-carbon alloy steel, chain plate material is 40Mn, pin and roller material is 40Cr. High quality material and good heat treatment guarantee excellent anti-shearing force and tensile strength during working and have good looking.
2.Model: GLF For TGSS flat scraper conveyor, install flat scrapper
General & Dimension(Material: Carbon Steel, Stainless Steel)
Type
 
Pitch
P
mm
 
between
inner plates
b1
mm
 
Bush
Diameter
d
mm
 
Pin
Diameter
d1
mm
 
Bush
Diameter d2
mm
 
Plate
Width
H
mm
 
Plate 
Thickness 
T
mm
 
Flight Attachment (mm)
Rated
Strength
KN
 
Width
L
Distance
L1
Distance
L2
diameter
D 
GLF66.5(5-6)D

 

66.5

 

26.5

 

22.23

 

12.7

 

16.23

 

30

 

5/6

 

160
102
/
2-Φ9X14
140

 

230
95
195
4-Φ9X14
 
270
102
228
GLF66.675(5-6)D

 

66.675

 

26.5

 

22.23

 

12.7

 

16.23

 

30

 

5/6

 

182
90
150
4-Φ9X14

 

140

 

215
95
195
295
95
195
GLF100(6)

 

100

 

38.5

 

36.0

 

16.0

 

21.6

 

40

 

6

 

170
115
 
2-Φ9X14
180

 

225
95
195
4-Φ9X14

 

294
115
245
370
155
255
GLF125(6)D
 
125
 
32.5
 
25.0
 
18.0
 
20.00
 
50
 
6
 
300
115
245
4-Φ9X14
 
200
 
370
130
330
GLF160(8)D×385
160
36.5
36.0
17.8
24.50
50
8
385
130
330
4-Φ11X15
220
GLF200(8)D×467
200
42.5
40.0
20.0
30.00
60
8
467
160
420
4-Φ13X17
250
81X
66.27

 

26.99

 

23.02

 

11.1

 

16.23

 

28.6
4
Welding attached plate, length and hole size customized
Wood transport chain according to customer requirements

 

107
81XH
31.4
 
 6/8
152
81XHH
8
191
NOTE: Other specifications which are not listed above can be made to customers' specifications.
Bush roller chain(used in U type scraper conveyor) 
Model: GLR For TGSU arc scraper conveyor, install U type scrapper
General & Dimension(Material: Carbon Steel, Stainless Steel)
Type
Pitch
P
mm
between
inner plates
b1 mm
Bush
Diameter
D mm
Pin
Diameter
d1 mm
Bush
Diameter
d2 mm
Plate
Width
H mm
Plate 
Thickness 
T mm
Flight Attachment (mm)
Rated
Strength
KN
Width
L mm
Distance
L1mm
Distance
L2mm
diameter
D mm
GLR68(5)
68
25.3
22.23
11.1
16.23
29
5
 
102
32
4-Φ9
140
GLR60(6)D
60
26.0
22.23
12.7
 
30
6
130
100
32
4-Φ9
140
GLR66.5(6)D
66.5
26.5
22.23
12.7
16.23
30
6
130
102
32
4-Φ9
140
GLR80(6)D
80
32.0
28.00
18.0
 
42
6
160
120
32
4-Φ9
140
GLR100(6)D
100
38.5
36.00
16.0
21.6
40
6
130
102
32
4-Φ9
180
Ring Chain 
DRAG CONVEYOR
Type
Ring
Chain
Type
Pitch
P(mm)
Diameter
d(mm)
length
L1(mm)
Width
W(mm)
Flight
Type
Wing Width
L(mm)
Flight
Width
H(mm)
GSS16
D10-55-13
55
10
74
32.5
HF16
148
43.5
GSS20
D10-55-13
55
10
74
32.5
HF20
188
43.5
GSS25
D10-55-13
55
10
74
32.5
HF25
225
43.5
GSS32
D14-70-18
70
14
95
45
HF32
300
54.5
GSS40
D14-70-18
70
14
95
45
HF40
382
54.5
Offset Sidebar Chain
Type
Pitch
P
mm
Bush
Diameter
d1
Pin
Diameter
d
Plate
Width
H
Width between
plates at inner ends
b1
Width between
plates at outer ends
b2
Plate 
Thickness 
T1
Rated
Strength
KN
Wing Plate 
Thickness
T2
Wing Width
L mm
WH78
66.27
22.23
12.7
28.4
28.4
51
6.4
93.4
Welding attached plate, length and hole size customized
WH82
78.1
27
14.29
32
44
57
6.4
132
WH124
101.6
36.5
19.05
38.1
41.3
70
9.5
300
WH132
153.67
44.45
25.25
50.8
77.1
111.76
12.7
378
WH150
153.67
44.45
25.25
63.5
77.1
111.76
12.7
398
WH155
153.67
44.45
28.42
63.5
73.6
111.25
14.27
411
WH157
153.67
44.45
28.42
63.5
76.4
117.35
15.88
552
Forged Chain
Pitch
P(mm)
Pin Diameter
d(mm)
Plate Width
 H(mm)
b1
(mm)
b2
(mm)
b3
(mm)
T1
(mm)
T2
(mm)
Wing Width
L(mm)
Rated
Strength
100
14
30
15
33
16
13
6(8)
Welding attached plate, length and hole size customized
140KN
125
17
35
17
34
18
8
6(8)
150KN
142
25.4
50.8
19
43
20
12.2
8(10)
270KN
142(H)
25.4
50.8
29
62
30
15
8(10)
340KN
150
18
40
18
40
20
11.5
6(8.10)
200KN
200
21
45
20
42
22
12.2
6(8.10)
270KN
Company Profile
ZheJiang CZPT CONVEYING EQUIPMENT CO. LTD., Established in 2011, specializing in bucket elevator, conveyor parts manufacturing, in recent years, more than 10 research and development of food conveying accessories obtained national invention and edible new patents.
Our factory is located in Daoshu Industrial Park, HangZhou City, ZheJiang Province, which is 1 of the most developed industrial areas in China. The company covers 28,000 square CZPT with the floor area of 8,000 square meters.
Our main products include elevator bucket, drag conveyor flight, UHMW-PE sheet, PVC elevator belts, elevator bolts, belt fastener, conveyor chains and more than 4 hundred types components which are widely used in bulk material handling and storage industry.
JINGWEI currently has more than 10 units of the whole series of 250-2500g injection molding machines, 1 production line of UHMW-PE sheet which is the higher pressure per unit in China, 1 special production line for PVC CZPT woven belt, 1 production line of elevator bolts and nut, 1 production line for conveyor chains. We annually produce 5 million plastic elevator buckets, 2 million steel buckets, 500 tons of UHMW-PE products, 0.8 million square CZPT of PVC CZPT woven elevator belt, 15 billion sets of elevator bolts, and 60,000 CZPT of conveyor chains.
Our company strictly in accordance with ISO9001 Quality Management System, and has obtained SGS certification. In order to raising working efficiency and reducing the cost of production, our company makes full use of computer network and ERP system to reform integration management in enterprise resource management, on the base of that, we have the ability to  provide high quality products with competitive price and best service to customers.
JINGWEI believes the enterprise spirit of "integrity, pragmatic and innovative." We will strive to become 1 of the best one-stop suppliers in the industry.
| | |
| --- | --- |
| Material: | Steel/Satinless Steel |
| Structure: | Conveyor Chain |
| Surface Treatment: | Shot Peening |
| Chain Size: | Glf/Glr |
| Feature: | Fire Resistant, Oil Resistant, Heat Resistant |
| Function: | Transmission |
Samples:

US$ 20/Piece

1 Piece(Min.Order)

|
Request Sample
Customization:

Available

|

Customized Request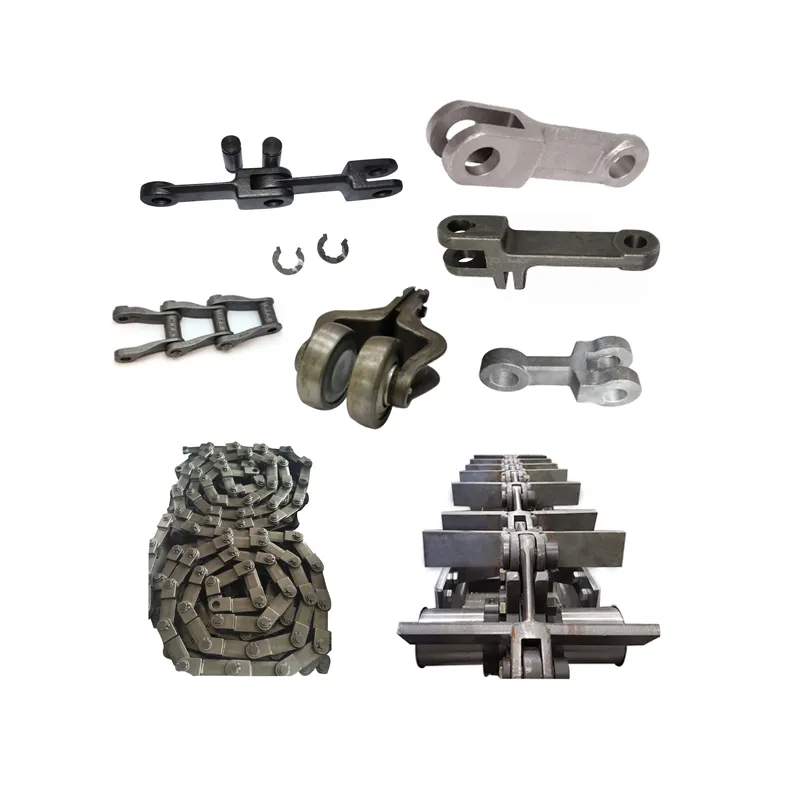 Can agricultural chains be used in hydroponics and vertical farming systems?
Yes, agricultural chains can be used in hydroponics and vertical farming systems to facilitate various processes and functions within these innovative farming methods.
In hydroponics, which is a soilless method of cultivating plants, agricultural chains are employed in systems such as:
Nutrient Delivery: Agricultural chains are utilized to transport nutrient solutions to the plant roots in hydroponic setups, ensuring that plants receive the necessary minerals and water for their growth.
Vertical Grow Systems: In vertical farming, where plants are grown in stacked layers or vertical towers, agricultural chains play a critical role in moving the platforms or shelves that hold the plants, allowing for efficient space utilization and easy access for maintenance.
Conveyor Systems: Agricultural chains are used in conveyor systems to transport plants, seedlings, or harvested crops within the hydroponic facility, streamlining the production process.
Irrigation: Chains can be part of automated irrigation systems that deliver water to the plants at regular intervals, ensuring precise and consistent hydration.
Vertical farming, on the other hand, relies on controlled environments and artificial lighting to optimize plant growth in limited spaces. Agricultural chains are integral to this farming method for the following reasons:
Automated Systems: Chains are used in automated setups that move plant trays or containers, allowing each plant to receive an appropriate amount of light, water, and nutrients.
Space Efficiency: Agricultural chains enable vertical farming systems to maximize space utilization, making them particularly suitable for urban environments and areas with limited land availability.
Plant Positioning: Chains help position plants at optimal angles to receive the most sunlight or artificial light, promoting uniform growth and consistent yields.
Overall, agricultural chains play a vital role in hydroponics and vertical farming, contributing to increased efficiency, precise nutrient delivery, and the ability to grow crops in non-traditional settings. These advanced farming systems leverage the benefits of agricultural chains to meet the demands of sustainable and high-yield crop production for the future.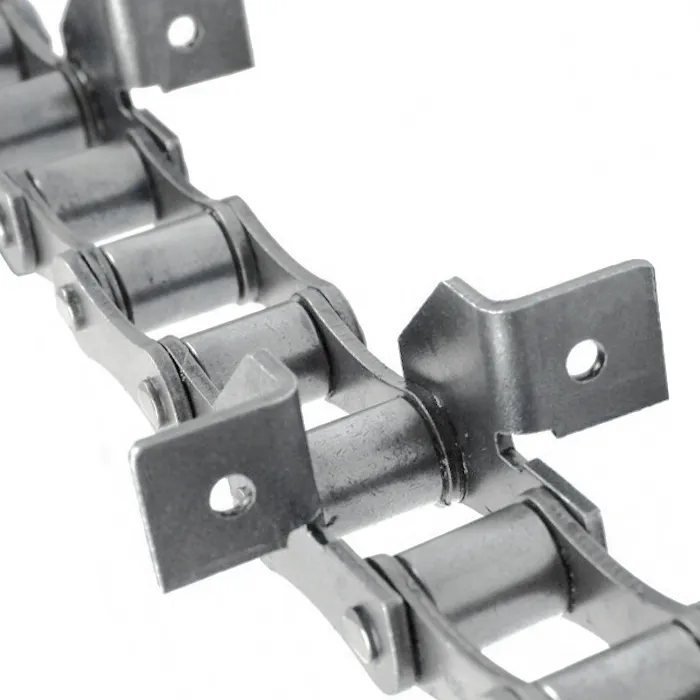 How do agricultural chains handle heavy loads and high torque requirements?
Agricultural chains are designed to handle heavy loads and high torque requirements commonly encountered in farming machinery. Here's how they achieve this:
High-Quality Materials: Agricultural chains are typically made from high-quality alloy steels that offer excellent tensile strength, toughness, and resistance to wear. These materials can withstand the stress and strain of heavy loads and high torque, ensuring the chain's integrity under demanding conditions.
Robust Design: The design of agricultural chains includes precision engineering to ensure optimal load distribution and efficient power transmission. The components are manufactured to specific dimensions, allowing them to mesh smoothly with sprockets and transmit torque effectively.
Large Contact Areas: Agricultural chains often have large contact areas with sprocket teeth, which helps distribute the load more evenly, reducing stress concentration on individual components. This design feature enhances the chain's ability to handle heavy loads and torque.
Heat Treatment: Many agricultural chains undergo heat treatment processes like carburizing or induction hardening. These treatments improve the chain's surface hardness, wear resistance, and fatigue strength, making it more capable of handling heavy loads and high torque without premature failure.
Preloading and Lubrication: Proper preloading of the chain during assembly and regular lubrication are essential to reduce friction and wear. Adequate lubrication also helps dissipate heat generated during operation, preventing excessive wear and elongation of the chain under heavy loads.
Regular Maintenance: Regular maintenance and inspection are vital to ensuring that agricultural chains remain in optimal condition. Periodic checks for signs of wear, proper tension, and lubrication help prevent unexpected failures and extend the chain's service life.
In conclusion, agricultural chains are built with robust materials, precise design, and appropriate treatments to handle heavy loads and high torque requirements effectively. When used and maintained correctly, they contribute to the reliable and efficient operation of various farming equipment.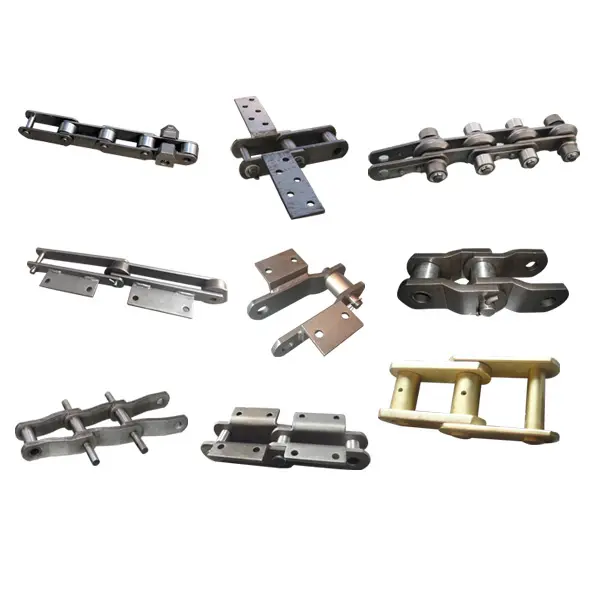 How are agricultural chains used in modern agricultural machinery?
In modern agricultural machinery, agricultural chains are employed in various critical applications to facilitate the efficient and productive operation of farming equipment. Some common uses of agricultural chains in modern agricultural machinery include:
Tractors: Agricultural chains are essential components in tractors, where they are part of the drive system, transmitting power from the engine to the wheels or tracks, allowing the tractor to move across the field and perform various tasks.
Combine Harvesters: In combine harvesters, agricultural chains play a crucial role in driving the harvesting mechanism and the threshing units. They enable the cutting, separating, and collecting of crops during the harvesting process.
Planting Machines: Agricultural chains are used in planting machines to distribute seeds evenly and at the desired spacing while planting crops. They ensure accurate and efficient seed placement for optimal plant growth.
Grain Handling Equipment: Within grain handling equipment like grain elevators and conveyors, agricultural chains are employed to move crops, seeds, and grains from one point to another during storage and transportation.
Hay Balers: Agricultural chains are utilized in hay balers to compress and bind hay or straw into bales for easy handling, storage, and transportation.
Tillage Equipment: In tillage equipment, agricultural chains help to prepare the soil for planting by turning and tilling the ground, readying it for seed sowing.
Manure Spreaders: Agricultural chains are used in manure spreaders to distribute manure evenly across the fields, improving soil fertility and promoting crop growth.
Modern agricultural chains are designed to withstand heavy loads, high-speed operations, and adverse environmental conditions commonly encountered in farming applications. They are made from durable materials and undergo precision manufacturing to ensure reliable performance and longevity.
Regular maintenance, including lubrication and proper tensioning, is crucial to keep agricultural chains in optimal working condition and to prevent premature wear. With the advancement of technology and material science, modern agricultural chains continue to play a vital role in improving the efficiency and productivity of farming operations worldwide.



editor by CX 2023-07-25