Product Description
 High Quality Sharp Top Chain Conveyor Chain Agricultural Machinery Transmission Industrial Roller Chain
Product Description
Roller chains conforms to ISO, ANSI, DIN, JIS and other standards. It adopts high-quality materials and advanced processing technology. The roller chains has the characteristics of high tensile strength and high fatigue strength. The roller chain is widely used in construction machinery, agricultural machinery, motorcycles, and automobile transmission. , food conveying machinery, logistics conveying machinery, packaging machinery and other fields, to transmit power for various mechanical facilities
| | |
| --- | --- |
| Product Name | High Quality Sharp Top Chain Conveyor Chain Agricultural Machinery Transmission Industrial Roller Chain |
| Material | carbon steel,stainless steel and so on |
| Standard | DIN GB ISO JIS  |
| DIN/ISO chain No. | 08A,10A,12A,16A,20A,24A,28A,32A,36A,40A,48A;08B 10B 12B 16B and so on |
| Key Words | Roller Chains  |
| Application Area | Food processing, pharmaceutical and chemical industries, electronics, household appliances, automotive manufacturing, metallurgy, sewage treatment |
| Delivery time | 3-10 days depends on quantity needed |
Product Parameters
Company Profile
HangZhouTerry Machinery Co.,Ltd is a leading internatioal Machinery Manufacturer. The growing economics and convenient transportation of HangZhou benefits the development of Terry Machinery. Our products are utilized in commercial, industrial and custom application. Terry Machinery is specialized in engineering machinery bearing and vehicle industrial bearing. Our products have been exported over 53 countries.The goal of Terry Machinery is to provide out customers with widest range of products at lowest price, high quality with the best service.
Certifications
Our Advantages
1. World-Class Roller Chains
We provide our customers with all types of indigenous chains with world-class quality.
2. Free Samples:
We can provide free 1-10 meters,but you need bear shipping cost.
3. Genuine products With Excellent Quality:
 The company has always proved the 100% quality products it provides with genuine intent.
4. Many Cheap International Forwarders: 
 We have many International forwarders partner and all kinds of shipping channel,keep sure your goods arrived yourside safe and fast.
5. Quick Delivery:
 The company provides just-in-time delivery with its streamlined supply chain.
Packaging & Shipping
FAQ
1.What is the minimum order quantity for this product?
Depending on the size of the bearing, the MOQ is variable, if you are interested, you can contact me for a quote.
2.What is your latest delivery time?
Most orders will be shipped within 3-10 days of payment being received.
3.What are the advantages of your company's services compared to other companies?
Answer questions online 24 hours a day, reply in a timely manner, and provide various documents required by customers for customs clearance or sales. 100% after-sales service.
4.Which payment method does your company support?
Do our best to meet customer needs, negotiable.
5.Do you accept OEM or customized service?
In addition to standard products, we also supply non-standard and modified standard products for special application. Meanwhile, we provide OEM service.
High Precision Bearing Steel CHINAMFG CHINAMFG CHINAMFG 6205 6206 Deep Groove Ball Bearing for Motorcycles Part
High Precision Bearing Steel CHINAMFG CHINAMFG CHINAMFG 6205 6206 Deep Groove Ball Bearing for Motorcycles Part
High Precision Bearing Steel CHINAMFG CHINAMFG CHINAMFG 6205 6206 Deep Groove Ball
                         Please feel free to contact us, if you have any other question
| | |
| --- | --- |
| Standard or Nonstandard: | Standard |
| Application: | Textile Machinery, Garment Machinery, Conveyer Equipment, Packaging Machinery, Electric Cars, Motorcycle, Food Machinery, Marine, Mining Equipment, Agricultural Machinery, Car, CNC Machine |
| Surface Treatment: | Polishing |
| Structure: | Roller Chain |
| Material: | Carbon Steel |
| Type: | Short Pitch Chain |
Samples:

US$ 1/Meter

1 Meter(Min.Order)

|
Request Sample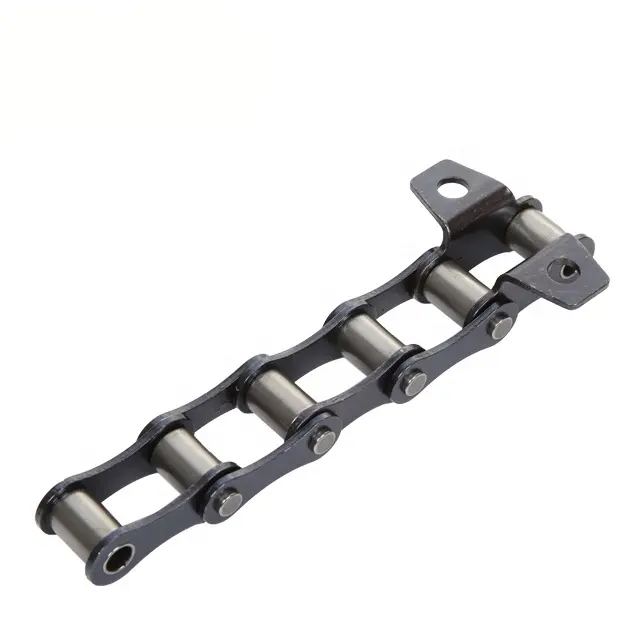 How do agricultural chains contribute to reducing downtime during farming seasons?
Agricultural chains play a crucial role in reducing downtime during farming seasons by offering reliable and efficient power transmission in various farming equipment and machinery. They contribute to minimizing downtime through the following aspects:
Robust Construction: Agricultural chains are designed to withstand the demanding conditions of agricultural operations, including exposure to dirt, debris, and varying weather conditions. Their sturdy construction and high-quality materials enhance their durability and resistance to wear, reducing the likelihood of chain failure and downtime.
Low Maintenance: High-quality agricultural chains require minimal maintenance when installed and used correctly. Proper lubrication and tension adjustment help prolong the chain's lifespan and minimize the need for frequent replacements or repairs.
Power Transmission Efficiency: Agricultural chains efficiently transfer power from one component to another in farming machinery, ensuring smooth and reliable operation. With minimal power loss, these chains optimize the performance of various agricultural equipment, reducing the chances of unexpected breakdowns.
Compatibility: Agricultural chains are available in various sizes and configurations to suit different farming applications. Their compatibility with a wide range of agricultural equipment, such as tractors, combines, and harvesters, ensures that downtime due to chain-related issues is minimized.
Quick Replacement: In the event of chain failure or wear, having spare chains readily available for quick replacement is essential. Proper inventory management and maintenance planning help ensure that replacement chains are on hand, reducing the time taken to get machinery back into operation.
By employing high-quality agricultural chains and implementing effective maintenance practices, farmers can significantly reduce downtime during crucial farming seasons. Regular inspection, timely chain replacement, and adherence to manufacturer recommendations all contribute to the reliable performance of agricultural equipment, optimizing productivity and minimizing costly interruptions to farming operations.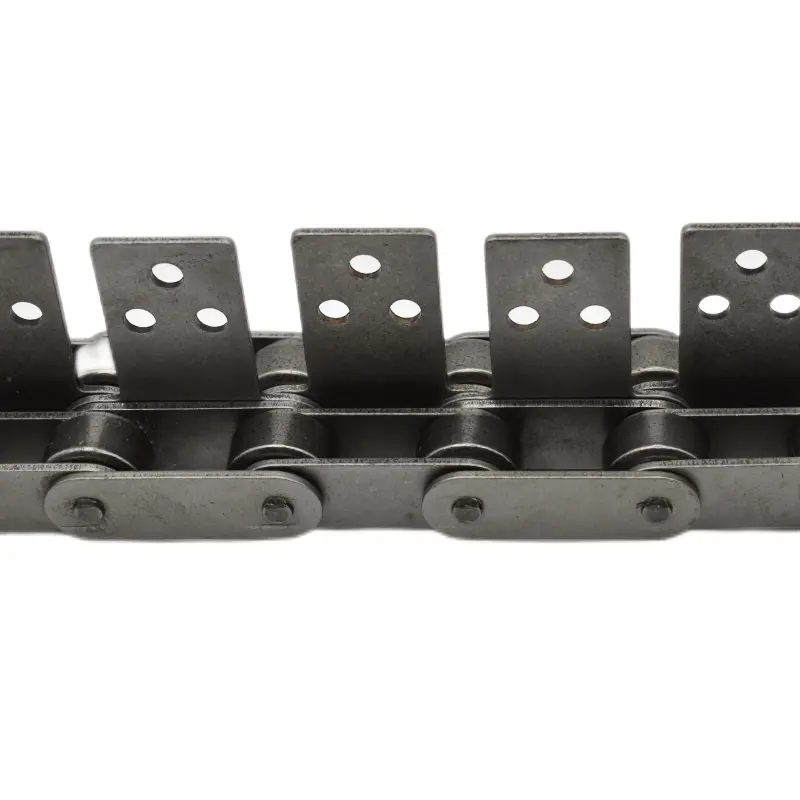 Can agricultural chains be repaired, or do they need to be replaced entirely?
Agricultural chains, like any other mechanical components, can experience wear and damage over time. In some cases, minor wear or damage can be repaired, but in others, replacement may be necessary. Here are some general guidelines:
**Repairs:** Minor issues such as slight elongation, minor chain link damage, or loose pins might be repairable. In such cases, it's important to consult with a qualified professional or the manufacturer to assess the extent of the damage and determine if a repair is a safe and viable option.
**Replacement:** In many cases, it's recommended to replace the entire agricultural chain if it shows significant wear, deformation, severe damage, or if it has reached its maximum wear limit. Chains that are worn beyond the recommended elongation limit or those with critical components that cannot be repaired should be replaced for optimal safety and performance.
It's important to remember that safety is paramount when dealing with agricultural chains. If there is any doubt about the integrity of the chain or the effectiveness of a repair, it's best to err on the side of caution and replace the chain entirely to avoid potential hazards.
Ultimately, the decision to repair or replace an agricultural chain should be based on a thorough inspection and evaluation by experienced professionals who are familiar with the specific chain type and its application.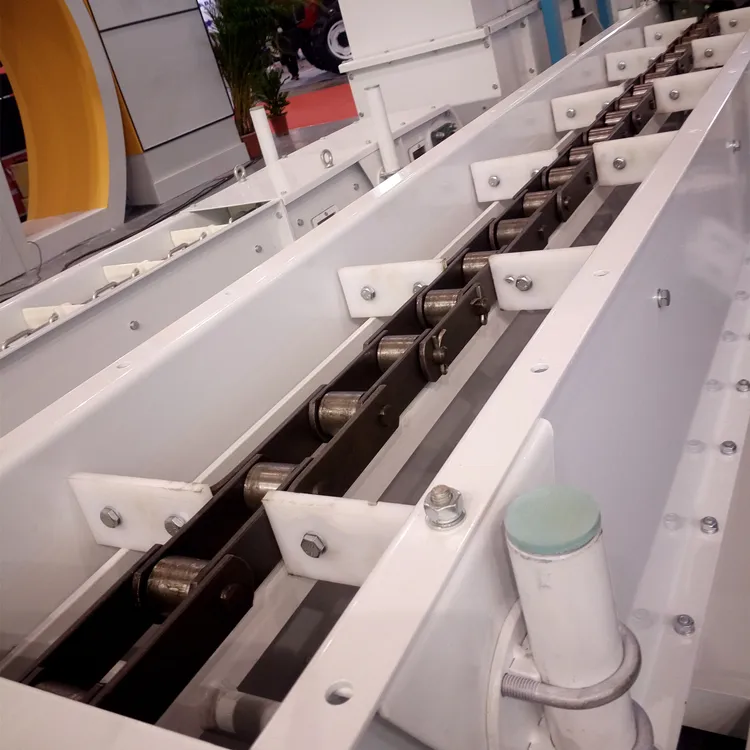 What are the maintenance requirements for agricultural chains?
Maintaining agricultural chains is essential to ensure their optimal performance and longevity. Here are the key maintenance requirements:
Lubrication: Regularly lubricate the chain to reduce friction and wear. Use a suitable lubricant to protect against rust and corrosion, especially in outdoor agricultural environments.
Inspection: Routinely inspect the chain for signs of wear, damage, or elongation. Look for loose pins, damaged plates, or any irregularities that may affect performance.
Tension Adjustment: Check the chain's tension and adjust it as needed. Proper tension ensures the chain functions smoothly and prevents premature wear.
Cleaning: Keep the chain clean by removing dirt, debris, and crop residues. Regular cleaning prevents contaminants from affecting the chain's operation and extends its life.
Replacement of Worn Parts: If any components, such as pins, bushings, or attachments, are significantly worn or damaged, replace them promptly to maintain the chain's integrity.
Environmental Considerations: In particularly harsh agricultural environments, consider using chains with appropriate coatings or materials to withstand chemical exposure and adverse weather conditions.
Proper Storage: When not in use, store the chains in a dry and clean environment to prevent rust and damage.
Regular maintenance not only ensures the agricultural chains' reliability but also helps prevent costly downtime and potential equipment damage. Following manufacturer guidelines and best practices is crucial for keeping agricultural chains in top condition throughout their service life.



editor by CX 2023-09-20