Product Description
Drive Roller Conveyor Leaf Hollow Pin Industrial Chain Elevator Silent Hoisting Pintle Cast Stainless Steel Duplex Engineering Drag Link Agricultural Escalator 
Product Description
Click on the picture to get the latest quotation
transmission chain  (Driving Chain)
Short Pitch Precision Roller Chain (A Series)(1,2,3)
04C-1  06C-1-2-3  085-1-2-3  08A-1-2-3  10A-1-2-3  12A-1-2-3  16A-1-2-3  20A-1-2-3  24A-1-2-3  28A-1-2-3  32A-1-2-3  40A-1-2-3  48A-1-2-3
25 35 35-2 35-3 -2 40-3 50 50-2-50-3 60 60-2 60-3 80 80-2 80-3 100 100-2  100-3 120 120-2 120-3 140 140-2 160 160-2 -2  240
Short Pitch Precision Roller Chain (B Series)(1,2,3)
06B-1-2-3 06B-1-2-3 08B-1-2-3  10B-1-2-3  12B-1-2-3  16B-1-2-3 20B-1-2-3 24B-1-2-3  28B-1-2-3  32B-1-2-3  40B-1-2-3  48B-1-2-3  56B-1-2-3   64B-1-2-3  72B-1-2-3
Heavy Duty Series Roller Chain(1,2)
08AH-1  10AH-1  12AH-1-2-3  16AH-1-2-3  20AH-1-2-3  24AH-1-2-3  28AH-1-2-3  32AH-1-2-3  40AH-1-2-3
Side Bow Chain
40SB 43SB  50SB  60SB  63SB 80SB 08BSB 08BSBY1  10BSB  12BSB  C2050SB
Motorcycle Chain
410  415  415H  420  420H  428  428H  520  520H  525  525H  530  530H  630  630H
Engine Mechanism Chain    (Timing Chain)
CL04
Self-Lubrication Roller Chain
08BSLR  10BSLR 12BSLR 16BSLR 40SLR 50SLR 60SLR 80SLR
Double Pitch Transmission Chain
208A  208B 210A  210B  212A  212B  216A  216B  220A  220B
2040  2050  2060 2080  2100
Bush Chain
P15F-B  P20-B  P25-B  P25F1-B P30F2-B  P36-B  P40-B  P45-B  P50-B P55-B P60-B  P70-B  P80-B
Conveyor Chain
Roller Chains With Straight Side Plates (A Series)
C08A-1-2-3  C10A-1-2-3  C12-1-2-3  C24A-1-2-3  C32A-1-2-3
C35  C40-1-2-3  C50-1-2-3  C80-1-2-3  C100-1-2-3  C120-1-2-3  C140-1-2-3  C160-1-2-3
Roller Chains With Straight Side Plates (B Series)
C08B-1-2-3  C10B-1-2-3  C12B-1-2-3  C16-1-2-3  C20B-1-2-3  C24B-1-2-3  C28B-1-2-3  C32B-1-2-3
Double Pitch Conveyor Chain
C208A  C208AH  C208B C208BL  C210A  C210AL  C212A   C212AH   C212AHL  C216A  C216AL  C216AH  C216AHL  C220A  C220AL  C220AH  C220AHL  C224A  C224AL  C224AH  C224AHL  C232A  C232AL  C232AH  C232AHL
C2050  C2052  C2060  C2062  C2060H  C2080  C2080H  C2082  C2082H C2100  C2100H  C2102  C2102H  C2120  C2120H  C2122  C2122H  C2160  C2160H  C2162  C2162H
Double Pius Speed Chain
BS25-C206B  BS25-C208A  BS25-C210A  BS25-C212A  BS30-C206B  BS30-C208B  BS30-C210B  BS30-C212B
Conveyor Chain (M Series)
M20  M28  M40  M56  M80
Hollow Pin Conveyor Chain (MC Series)
MC28  MC56  MC112  MC224
Conveyor Chain (FV Series)
FV40  FV63  FV90  FV112  FV140
Conveyor Chain (FVT Series)
FVT40  FVT63  FVT90  FVT112  FVT140  FVT180  FVT250  FVT315
Hollow Pin Conveyor Chain (FVC Series)
FVC63  FVC90  FVC112  FVC140  FVC180  FVC250  FVC315
Conveyor Chain (Z Series)
Z40  Z100  Z160  Z300
Conveyor Chain (ZE Series)
ZE40  ZE100  ZE160  ZE300
Hollow Pin Conveyor Chain (ZC Series)
ZC21  ZC40  ZC60  ZC150  ZC300
Hollow Pin Chains
08BHPF  08BHPF5 08BHP9 10BHPF3 10BHPF4 12BHPF2 12BHPF3 16BHPF3  16BHPF4  40HP 08BHPF7  08BHP  50HP  50HPF4  50H-HP  60HP  60HPF1  80HP  80HPF1  80HPF2  80H-HP  80HPF3  80HPF4  HB41.75F5  A2080HP
Welded-type cranked link chains
WR78  WH78  WR82  WH82  WR106  WH106  WR110  WH110  WR111  WH111  WR124  WH124  WR132  WH132  WR150  WH150  WR155  WH155  WR157  WH157  WR78F5  WH78F4  WH124F1  WH111F1
Palm oil Chains
P101.6F2  P152F14  P152F17  P152F29  90R-S  P101.6F64  P76.7  P152F31
Sugar mill chains
DH9063  DH2198  P152F93K2  P152F78K2  DH 0571 0  DH1796  P152F77-AS2  P203.2F9
Rubber gloves carrier chains
P100F155  P100F13   P100F139  P150/90
Lumber conveyor chains
81X  81XH  81XHE  81XHH  81XHS  500R  441.100R
Sharp top chains
08AF34  08BF21  10AF8  41F6  06BF1  06BF37  08AF41  08BF44  08AF8…
Stainless Steel Chain
Stainless Steel Short Pitch Precision Roller Chain(A Series)
25SS-1  35SS-1  41SS-1  40SS-1  50SS-1  60SS-1  80SS-1  100SS-1  120SS-1
Stainless Steel Short Pitch Precision Roller Chain(B Series)
05BSS-1  06BSS-1  08BSS-1  10BSS-1  12BSS-1  16BSS-1  20BSS-1  24BSS-1
Stainless Steel Roller Chain With Straight Side Plates
C40SS-1  C50SS-1  C60SS-1  C80SS-1  C100SS-1  C120SS-1  C08BSS-1  C10BSS-1  C12BSS-1  C16BSS-1  C20BSS-1  C24BSS-1
Stainless Steel Double Pitch Transmission Chain
2040SS  2050SS  2060SS  2080SS  2100SS  2120SS  208BSS  210BSS  212BSS  216BSS  220BSS  224BSS
Stainless Steel Double Pitch Conveyor Chain
C2040SS  C2040HSS  C208BSS  C2050SS  C2060SS  C2060HSS  C2080SS  C2080HSS  C2100SS  C2100HSS C2120SS  C2120HSS
Stainless Steel Hollow Pin Chain
08BHFSS  40HPSS  50HPSS  60HPSS  12BHPSS  80HPSS  C2040HPSS  C2050HPSS  C2060HPSS  C2080HPSS  HB50.8SS
Stainless Steel Double Pitch Hollow Pin Chain
C2042HPSS  C2052HPSS  C2062HPSS  C2082HPSS  C2042H-HPSS  C2052H-HPSS  C2062H-HPSS  C2082H-HPSS
Lifting Chain
Car Parking Chain
12AT-1 16AT-1-2  20AT-1-2-3  24AT-1-2
Leaf Chain
LH0822  LH0823  LH571  LH0844  LH0846  LH 0571   LH1571   LH1571   LH1034   LH1044   LH1046   LH1066   LH1088   LH1222   LH1223  LH1234  LH1244  LH1246  LH1266  LH1288
BL422  BL423  BL434  BL444  BL446  BL466  BL488  BL522  BL523  BL534  BL544  BL546  BL566  BL588  BL622  BL623  BL634  BL644  BL646  BL666  BL688
Multiple Plate Bearing Pin Chain
LF30  MP50F2   MP50.8   MP70F1   MP70F2   MP70F3   MP80F1   MP90F1   MP90F2   MP110F1
Rollerless Lift Chain
45-1  55-1  65-1  85-1  105-1  125-1  145-1  165-1
Agricultural Chain
S Type Steel Agricultural Chain & Attachments
S32  S42  S45  S52  S55  S62  S77  S88  A550  A620
C Type Steel Agricultural Chain with Attachments
CA550  CA550/S55  CA555  CA550HD  CA550V  CA557  CA620  CA2801  38.1R  38.4R  38.4V  38.4VB
Rice Harvester Chain
S3558T-48001  S3558T-48002
Drop Forged Chain Series
Drop Forged Rivetless Chain
Imperial: 80H  X348   X458  468H  X658  X678  678  698  998  9118  S348  S458  S678  S698  S9118, Metric system: XT100  XT160
Cast Detachable Chain
55  57  62  74  78
Steel Detachable Chain
25  32  32W  51  52  55  62
Cast Iron Chain
Cast Iron Chain (C Series)
C55  C55L  C77  C188  C188L  C102B  C111  C131  C132
Cast Iron Chain (H Series)
H60  H78  H82  H110
Cast Iron Chain (4 Series)
462  477  488  4103  720  720S  730
Cast Iron Chain BRH188
BRH188  C188CP  C102B-K2  C55A  C55B  C55D  CC600  H78A  H78B  H130  H138  MC33  103  4103F29  907-E51
Welded chains
WR78  WH78  WR82  WH82   WR124  WH124
Forging Hanging Chain
X228  X348  X458  X678  698
Our Advantages
1. The material shall be 40Cr or above alloy steel
2. All raw materials are customized by large domestic steel plants. Before entering the plant, secondary tests are carried out to ensure stable and controllable product materials.
3. The basic amount of chain parts have realized white motion and CNC-controlled production
4. Mesh belt furnaces, infiltration, high frequency, etc., are used for heat treatment to make the chain plate and shaft sleeve reach the working state. The quenching medium is made of Korean Dragon base oil
5. Professional inspection personnel are assigned to inspect each level to ensure the product quality
6. Over 20 years of operation, we have accumulated a lot of practical experience, especially in the non-standard chain leading city, which enjoys a good reputation in the industry
Related products
Company Profile
The company mainly produces a variety of A and B series of short pitch precision roller chains for transmission, double pitch transmission chains, double pitch conveying roller accessories, short pitch conveying roller chain accessories, stereo garage chains, pin chains, double speed chains, scraper chain, pumping unit chain, sugar machinery particular chain, hollow pin roller chain and sleeve chain, large roller conveying chain and accessories, ZGS38 combine chain and accessories, S-type C-type steel agricultural machinery chain and accessories, conveyor chain, beer and beverage machinery conveyor chain, side bend flat top conveyor chain, brown oil press conveyor chain, etc. – series.
Our company has Ward, Yangli, and other precision stamping equipment. CHINAMFG laser cutting machine, automatic submerged arc welding machine, and other cutting equipment. XH precision leveling equipment, DM high-speed circular saw machine, CNC lathe, heavy double-end square milling machine, and other machining equipment. Fully automatic mesh belt quenching line, well-type gas carburizing furnace, vacuum mold furnace, high-frequency furnace, and other heat treatment equipment, lifting and hanging shot blasting machine barrel, and other surface treatment equipment.
Our company has a CHINAMFG technical force, advanced technology, a short development cycle of new products, and complete and perfect testing. The products are sold all over the world.
| | |
| --- | --- |
| Usage: | Transmission Chain, Drag Chain, Conveyor Chain, Dedicated Special Chain |
| Material: | Iron |
| Surface Treatment: | Oil Blooming |
| Feature: | Oil Resistant |
| Chain Size: | 1/2"*3/32" |
| Structure: | Roller Chain |
Samples:

US$ 9999/Piece

1 Piece(Min.Order)

|
Request Sample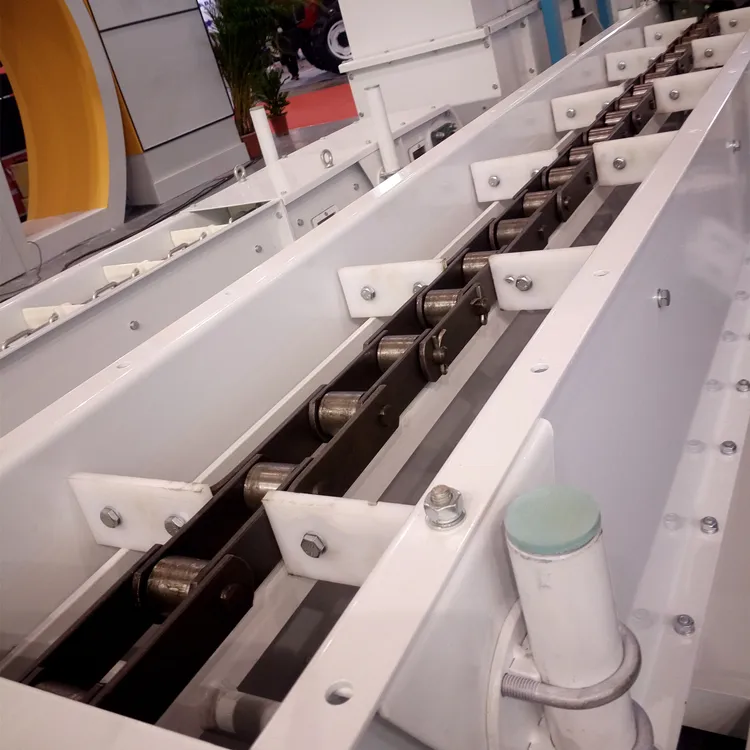 What are the advantages of using stainless steel agricultural chains in specific applications?
Stainless steel agricultural chains offer numerous advantages in specific applications, particularly in demanding and corrosive environments. Here are some key benefits:
Corrosion Resistance: Stainless steel chains are highly resistant to corrosion, making them ideal for applications where chains are exposed to moisture, chemicals, or harsh outdoor conditions. They are particularly suitable for agricultural machinery used in humid or corrosive environments.
Longevity: Stainless steel chains have excellent durability and longevity, even in challenging agricultural settings. They can withstand wear and tear, extending the service life of the chain and reducing the frequency of replacements.
Hygienic Properties: In certain agricultural applications, such as food processing or animal farming, maintaining a hygienic environment is critical. Stainless steel chains are easy to clean and are less prone to accumulating dirt, bacteria, or contaminants, ensuring compliance with hygiene standards.
Strength: Despite their corrosion resistance, stainless steel chains remain strong and robust. They can handle heavy loads and high-torque requirements, making them suitable for various agricultural machinery and equipment.
Temperature Resistance: Stainless steel chains can withstand a wide range of temperatures, making them suitable for use in both hot and cold climates. This versatility allows them to perform well in diverse agricultural settings.
Chemical Resistance: Agricultural applications often involve exposure to fertilizers, pesticides, and other chemicals. Stainless steel chains' resistance to chemical corrosion ensures reliable performance in such environments.
Reduced Maintenance: Due to their high resistance to corrosion and wear, stainless steel chains require less frequent maintenance and lubrication compared to other chain materials. This results in cost savings and less downtime for agricultural equipment.
The use of stainless steel agricultural chains can significantly improve the efficiency and reliability of specific farming applications. However, it is essential to consider the specific requirements of the application, such as load capacity, environmental conditions, and operating temperatures, to select the most suitable type of stainless steel chain for optimal performance and longevity.
In conclusion, stainless steel agricultural chains are a valuable choice for applications where corrosion resistance, strength, and durability are paramount, making them well-suited for various agricultural machinery and environments.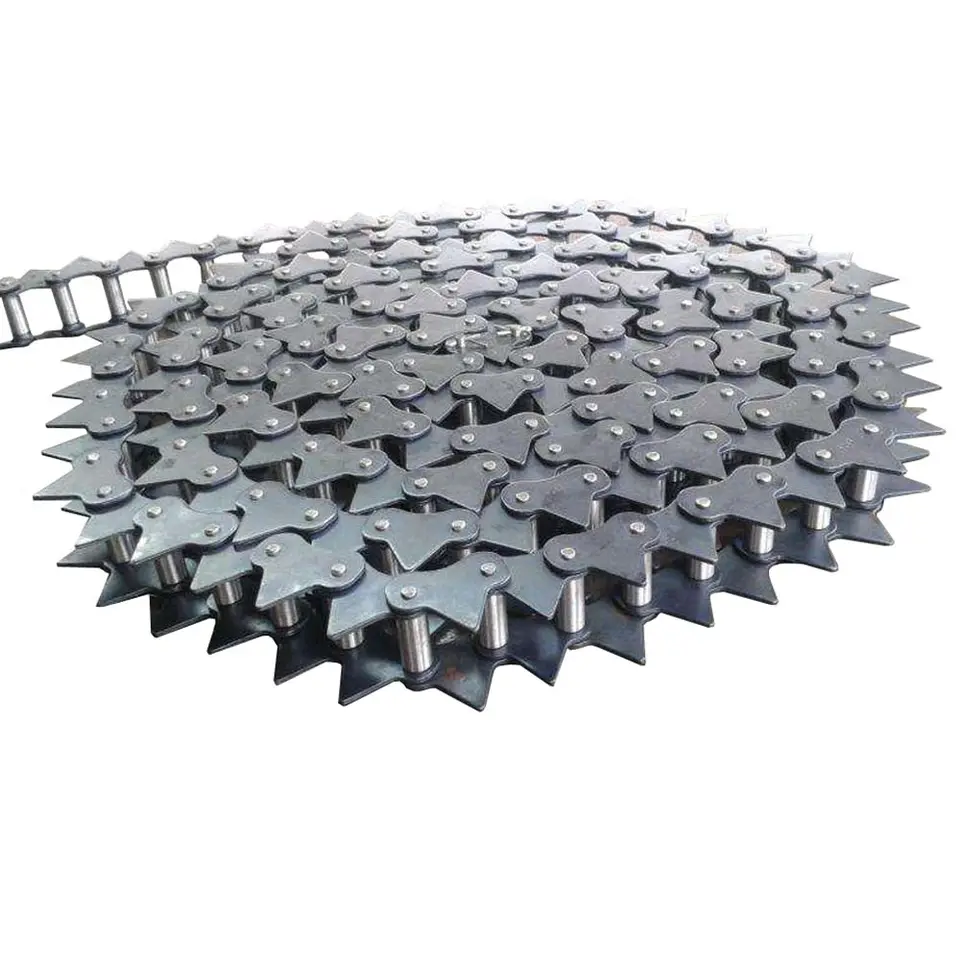 Can agricultural chains be used in both tractors and harvesting equipment?
Yes, agricultural chains can be used in both tractors and harvesting equipment. Agricultural chains are versatile and commonly employed in various types of farming machinery, including tractors and harvesting equipment. Here's how they are utilized in these applications:
Tractors: Agricultural chains are used in tractors for various purposes. They are an integral part of the power transmission system, transferring torque from the engine to the wheels and other working components. The chains enable tractors to perform essential functions such as plowing, tilling, planting, and towing. They provide the necessary strength and durability to handle the demanding tasks encountered in agricultural operations.
Harvesting Equipment: In harvesting equipment, agricultural chains play a crucial role in driving key components, such as the harvesting head, conveyor belts, and augers. These chains ensure smooth and reliable operation during the harvesting process. For example, in combine harvesters, the chains are used to drive the header, threshing drum, and other vital parts, contributing to efficient crop harvesting.
Overall, agricultural chains are well-suited for the challenging conditions found in both tractors and harvesting equipment. Their robust construction, high load-carrying capacity, and resistance to wear make them indispensable components for achieving productivity and performance in modern farming practices.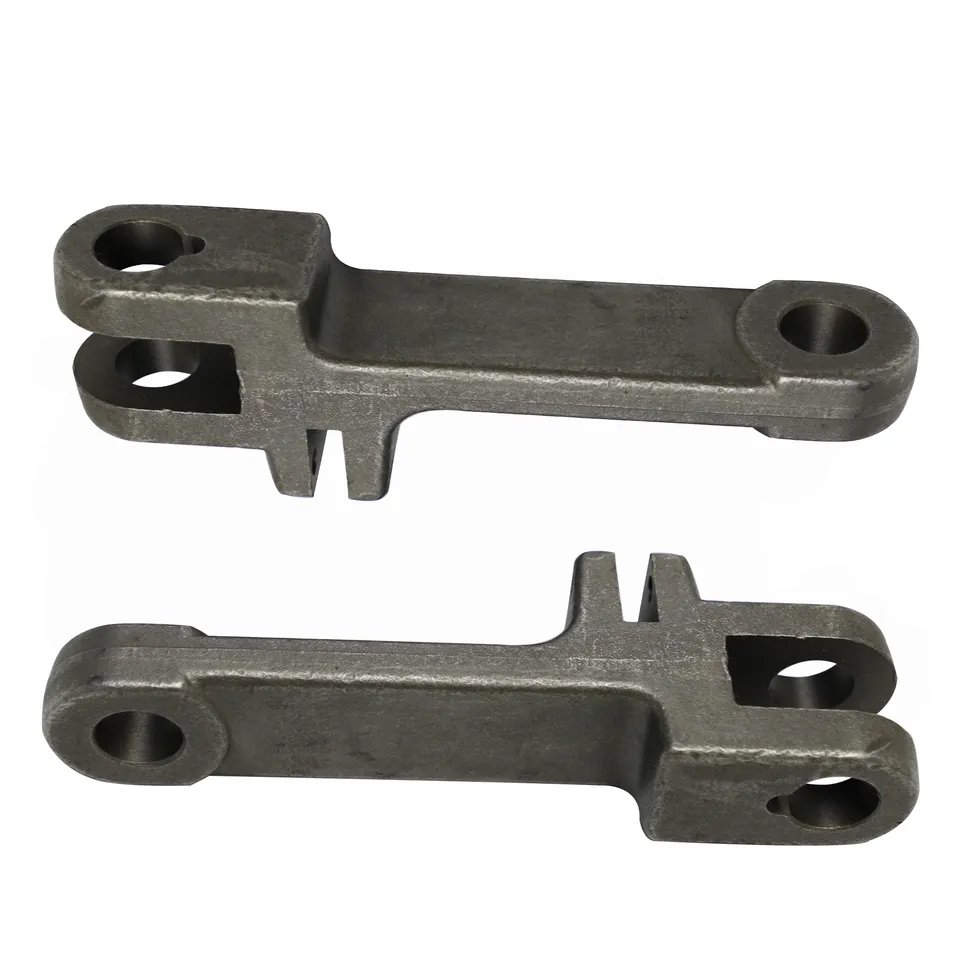 What materials are commonly used in manufacturing agricultural chains?
Agricultural chains are manufactured using various materials, each offering specific characteristics suitable for different farming applications. The most commonly used materials include:
Carbon Steel: Carbon steel is a widely used material for agricultural chains due to its excellent strength, durability, and affordability. It is suitable for general-purpose chains used in many agricultural applications.
Alloy Steel: Alloy steel chains are made by adding alloying elements to carbon steel, enhancing their strength and toughness. These chains are ideal for heavy-duty applications that require increased load-bearing capacity.
Stainless Steel: Stainless steel chains are corrosion-resistant and maintain their strength and appearance even in harsh environments. They are commonly used in applications where resistance to rust and chemicals is essential, such as in poultry and food processing equipment.
Plastic and Polymer: Some agricultural chains are made of plastic or polymer materials, which offer benefits like low friction, lightweight, and corrosion resistance. They are used in applications where noise reduction and low maintenance are priorities.
Galvanized Steel: Galvanized chains are coated with a layer of zinc, providing additional protection against corrosion. They are suitable for outdoor applications exposed to moisture and agricultural chemicals.
The choice of material depends on factors such as the specific agricultural application, the operating environment, required strength, and budget considerations. Manufacturers select the appropriate material to ensure that the agricultural chains can withstand the demanding conditions of farming operations and contribute to the overall efficiency and productivity of the equipment.



editor by CX 2023-10-24