Product Description
XIHU (WEST LAKE) DIS.HUA Chain Group is the most professional manufacturer of power transmission in China, manufacturing roller chains, industry sprockets, motorcycle sprockets, casting sprockets, different type of couplings, pulleys, taper bushes, locking devices, gears, shafts, CNC precision parts and so on. We have passed ISO9001, ISO14001, TS16949 such quality and enviroment certification.
S Type Steel Agricultural Chain with Attachments
DUNPAI CHAIN No. PTICH
55VSE
55VSEL
55VSEF1
CA645SE
| | | | | | | | | |
| --- | --- | --- | --- | --- | --- | --- | --- | --- |
| XIHU (WEST LAKE) DIS.HUA CHAIN NO. | P(mm) | b1(mm) | C (mm) | E(mm) | F(mm) | W(mm) | h4(mm) | d4(mm) |
| 55VSE | 41.4 | 22.23 | 41 | 17.5 | 88 | 118 | 18.44 | 8.4 |
| 55VSEL | 41.4 | 22.23 | 41 | 31.3 | 88 | 118 | 18.44 | 8.4 |
| 55VSEF1 | 41.4 | 22.23 | 40 | 25.0 | 88 | 118 | 18.00 | 8.4 |
| CA645SE | 41.4 | 22.23 | 40 | 17.5 | 88 | 118 | 18.00 | 8.4 |
| | |
| --- | --- |
| Usage: | Transmission Chain |
| Material: | Iron |
| Surface Treatment: | Polishing |
| Feature: | Heat Resistant |
| Chain Size: |   Custom Made |
| Structure: | Roller Chain |
Customization:

Available

|

Customized Request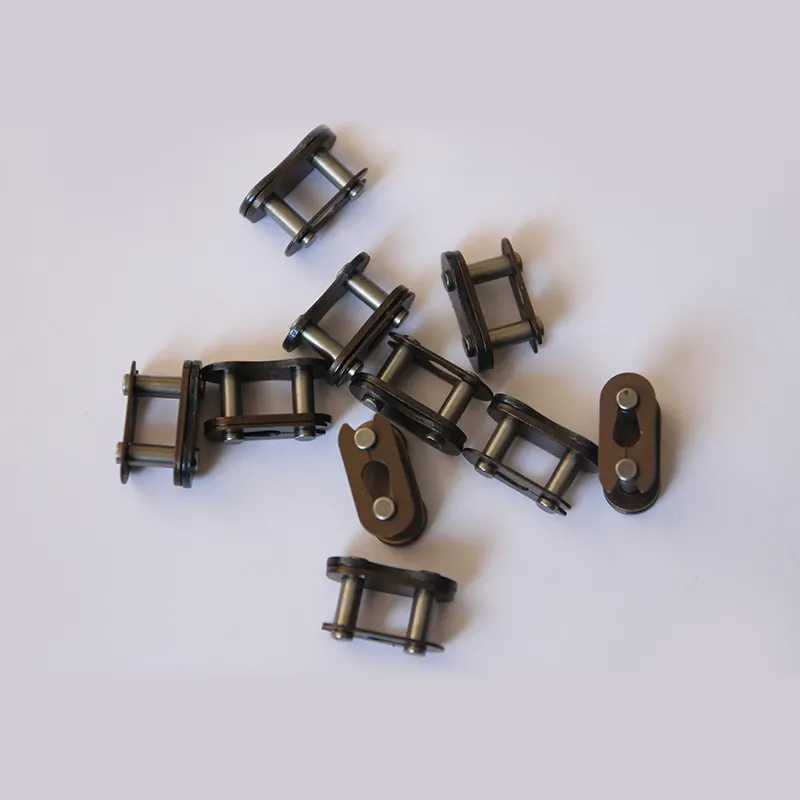 What are the differences between pintle chains and other types of agricultural chains?
Pintle chains are a specific type of agricultural chain, and they have some distinct differences compared to other common agricultural chains. Here are the key differences:
Design: Pintle chains have a unique design featuring open barrel-shaped links connected by a pin, which gives them their name. The design allows for easy flexing and bending, making them suitable for conveying and elevating applications.
Strength: Pintle chains are known for their high strength and durability. They can withstand heavy loads and are commonly used in demanding agricultural machinery and equipment.
Applications: Pintle chains are primarily used in heavy-duty applications such as manure spreaders, balers, and other agricultural machinery that require robust and reliable chain systems.
Attachment Options: Unlike some other agricultural chains, pintle chains often have integral attachments or hooks that are an integral part of the chain link. These attachments are used to connect the chain to the equipment and facilitate smooth operation.
Wear Resistance: Pintle chains are designed to resist wear and offer long service life even in harsh agricultural environments where dirt, debris, and abrasive materials are common.
Other types of agricultural chains, such as roller chains and agricultural conveyor chains, may have different designs and applications. Roller chains have cylindrical rollers between the link plates, and they are commonly used in various power transmission and agricultural equipment applications. Agricultural conveyor chains, on the other hand, are designed for use in conveyor systems to transport crops or other agricultural materials.
In summary, pintle chains stand out for their unique design, high strength, and specific applications in heavy-duty agricultural machinery, while other agricultural chains serve different purposes based on their respective designs and characteristics.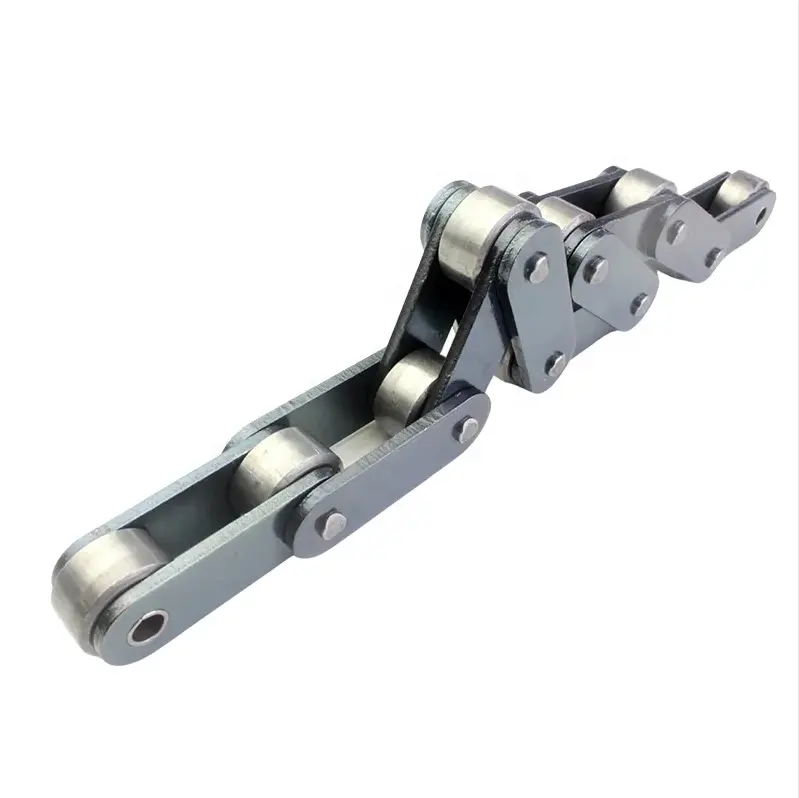 Can agricultural chains be used in drip irrigation and water management systems?
Yes, agricultural chains can be used in drip irrigation and water management systems to facilitate efficient water distribution and management in agricultural fields. These chains play a crucial role in moving irrigation equipment and controlling water flow. Here's how agricultural chains are utilized in drip irrigation and water management systems:
Conveying Watering Systems: Agricultural chains are commonly used in conveying watering systems, which move water from a water source to the drip irrigation lines. The chains help transport water through the system, ensuring a consistent and controlled flow of water to the crops.
Dosing Systems: In some water management systems, agricultural chains are part of dosing systems that regulate the amount of water delivered to each plant. These systems may use chain-driven mechanisms to adjust valves or control the release of water to individual drip lines.
Automatic Irrigation Systems: Automated drip irrigation systems often incorporate agricultural chains and sprockets to automate the movement of irrigation equipment. The chains drive the irrigation machinery along predetermined paths, ensuring even water distribution across the entire field.
Water Filtering and Cleaning: Agricultural chains are also used in water management systems to operate filtration and cleaning equipment. These chains help move filter screens, backwash systems, and other components to keep the water clean and free from debris that could clog the drip lines.
Line Flushing: Some irrigation systems use agricultural chains to flush out the drip lines periodically. The chains drive flushing devices that remove sediment or particles that may accumulate in the drip lines, preventing blockages and ensuring proper water flow.
By using agricultural chains in drip irrigation and water management systems, farmers can optimize water usage, improve crop yield, and implement more efficient and sustainable irrigation practices.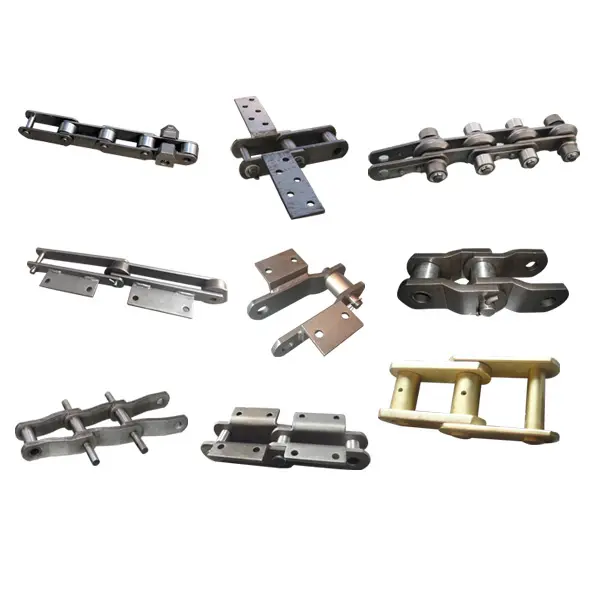 How are agricultural chains used in modern agricultural machinery?
In modern agricultural machinery, agricultural chains are employed in various critical applications to facilitate the efficient and productive operation of farming equipment. Some common uses of agricultural chains in modern agricultural machinery include:
Tractors: Agricultural chains are essential components in tractors, where they are part of the drive system, transmitting power from the engine to the wheels or tracks, allowing the tractor to move across the field and perform various tasks.
Combine Harvesters: In combine harvesters, agricultural chains play a crucial role in driving the harvesting mechanism and the threshing units. They enable the cutting, separating, and collecting of crops during the harvesting process.
Planting Machines: Agricultural chains are used in planting machines to distribute seeds evenly and at the desired spacing while planting crops. They ensure accurate and efficient seed placement for optimal plant growth.
Grain Handling Equipment: Within grain handling equipment like grain elevators and conveyors, agricultural chains are employed to move crops, seeds, and grains from one point to another during storage and transportation.
Hay Balers: Agricultural chains are utilized in hay balers to compress and bind hay or straw into bales for easy handling, storage, and transportation.
Tillage Equipment: In tillage equipment, agricultural chains help to prepare the soil for planting by turning and tilling the ground, readying it for seed sowing.
Manure Spreaders: Agricultural chains are used in manure spreaders to distribute manure evenly across the fields, improving soil fertility and promoting crop growth.
Modern agricultural chains are designed to withstand heavy loads, high-speed operations, and adverse environmental conditions commonly encountered in farming applications. They are made from durable materials and undergo precision manufacturing to ensure reliable performance and longevity.
Regular maintenance, including lubrication and proper tensioning, is crucial to keep agricultural chains in optimal working condition and to prevent premature wear. With the advancement of technology and material science, modern agricultural chains continue to play a vital role in improving the efficiency and productivity of farming operations worldwide.



editor by CX 2023-09-22