Product Description
MADE-TO-ORDER Alloy/Carbon Steel Agricultural Part chain 38.4RSDF7, 38.4RSDF8
 
Product Description

1. Material: Alloy steel
2. Surface treatment: Shot peening / Blackening / Zinc-plated / Nickel-plated / made-to-order, etc.
Our company supply the high quality corn harvest chain. This chain is widely used to John CZPT and CLASS corn harvest machine. We have high wear resistant design chain, the pin will adopt special process treatment.
Product name 
C Type Steel Agricultural Chain From China Factory
Materials Available 
1. Stainless Steel: SS304 , SS316, etc
2. Alloy Steel: 45Mn, 42CrMo, 20CrMo, etc
3. OEM according to your request
Surface Treatment
Shot peening, Blackening, Oxygenation, Polishing, Zinc-plated, Nickel-plated, Anodized, etc.
Characteristic
Fire Resistant , Oil Resistant,  Heat Resistant
Design criterion
ISO DIN ANSI & Customer's Drawing
Size
Customer's Drawing & ISO standard 
Package
Wooden Case / Container and pallet, or made-to-order
Certificate
ISO9001: 2008 
Advantage
First quality, Best service, Competitive price, Fast delivery
Delivery Time
20 days for samples. 45 days for official order.
Detailed Photos
View more products,please click here…
 
Company Profile
| | |
| --- | --- |
| Material: | Alloy/Carbon Steel |
| Sample: | for Free |
| Transport Package: | Export Packing |
| Specification: | 38.4RSDF7, 38.4RSDF8 |
| Trademark: | MADE-TO-ORDER |
| Origin: | China |
Samples:

US$ 0/Meter

1 Meter(Min.Order)

|
Request Sample
Customization:

Available

|

Customized Request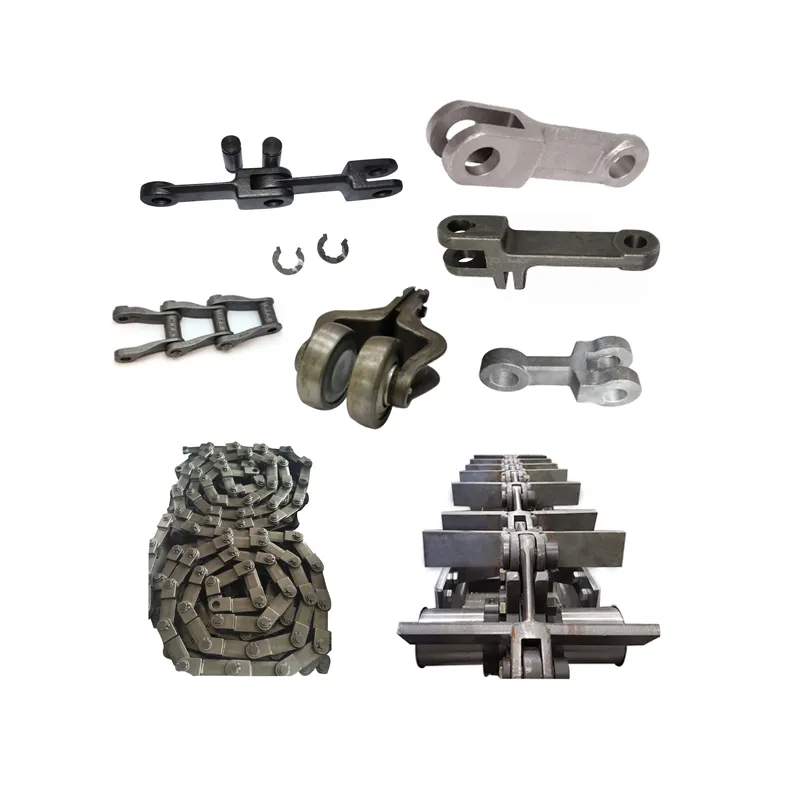 Can agricultural chains be used in hydroponics and vertical farming systems?
Yes, agricultural chains can be used in hydroponics and vertical farming systems to facilitate various processes and functions within these innovative farming methods.
In hydroponics, which is a soilless method of cultivating plants, agricultural chains are employed in systems such as:
Nutrient Delivery: Agricultural chains are utilized to transport nutrient solutions to the plant roots in hydroponic setups, ensuring that plants receive the necessary minerals and water for their growth.
Vertical Grow Systems: In vertical farming, where plants are grown in stacked layers or vertical towers, agricultural chains play a critical role in moving the platforms or shelves that hold the plants, allowing for efficient space utilization and easy access for maintenance.
Conveyor Systems: Agricultural chains are used in conveyor systems to transport plants, seedlings, or harvested crops within the hydroponic facility, streamlining the production process.
Irrigation: Chains can be part of automated irrigation systems that deliver water to the plants at regular intervals, ensuring precise and consistent hydration.
Vertical farming, on the other hand, relies on controlled environments and artificial lighting to optimize plant growth in limited spaces. Agricultural chains are integral to this farming method for the following reasons:
Automated Systems: Chains are used in automated setups that move plant trays or containers, allowing each plant to receive an appropriate amount of light, water, and nutrients.
Space Efficiency: Agricultural chains enable vertical farming systems to maximize space utilization, making them particularly suitable for urban environments and areas with limited land availability.
Plant Positioning: Chains help position plants at optimal angles to receive the most sunlight or artificial light, promoting uniform growth and consistent yields.
Overall, agricultural chains play a vital role in hydroponics and vertical farming, contributing to increased efficiency, precise nutrient delivery, and the ability to grow crops in non-traditional settings. These advanced farming systems leverage the benefits of agricultural chains to meet the demands of sustainable and high-yield crop production for the future.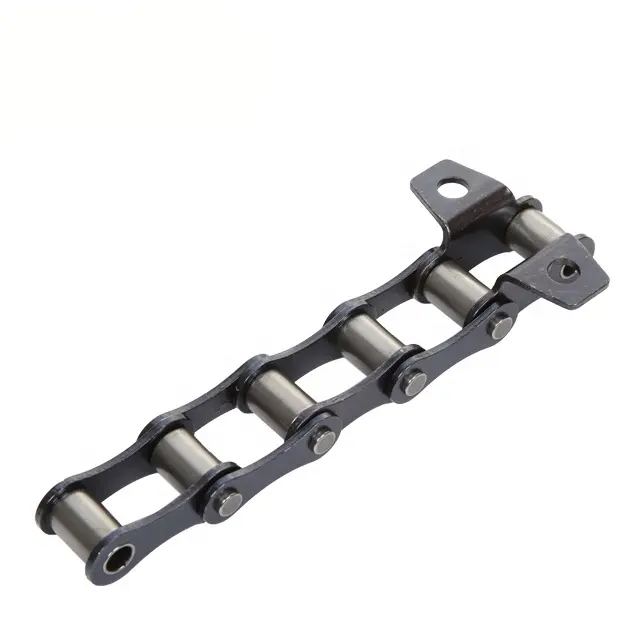 What are the benefits of using high-quality agricultural chains in farming machinery?
High-quality agricultural chains play a crucial role in the efficiency, productivity, and overall performance of farming machinery. Here are some key benefits of using high-quality agricultural chains:
Reliability and Durability: High-quality chains are built to withstand the demanding conditions of agricultural operations, such as exposure to dirt, debris, and varying weather conditions. They have excellent resistance to wear, fatigue, and corrosion, ensuring a longer service life and reduced downtime.
Increased Efficiency: Agricultural chains with precise manufacturing and tight tolerances reduce friction and power loss, leading to improved energy efficiency in farming machinery. This efficiency translates to better fuel economy and lower operational costs.
Optimal Performance: Using high-quality chains ensures smooth and consistent power transmission, which is critical for the proper functioning of various farming equipment, such as harvesters, tractors, and planters. It helps maintain constant speed and power delivery, leading to higher productivity and better crop yields.
Enhanced Safety: Reliable chains reduce the risk of unexpected failures or breakdowns during operation, minimizing the chances of accidents and injuries to operators and bystanders. High-quality chains are designed to meet industry safety standards and provide a higher level of assurance during use.
Lower Maintenance Costs: High-quality chains require less frequent maintenance and replacement, resulting in reduced maintenance costs and downtime. Investing in durable chains upfront can lead to substantial savings in the long run.
Compatibility and Versatility: Well-manufactured agricultural chains are designed to fit precisely with the sprockets and other components of farming machinery. They are available in various sizes and configurations, making them compatible with a wide range of equipment and applications.
Overall, choosing high-quality agricultural chains for farming machinery ensures reliable and efficient performance, maximizes the return on investment, and contributes to a smoother and more productive farming operation.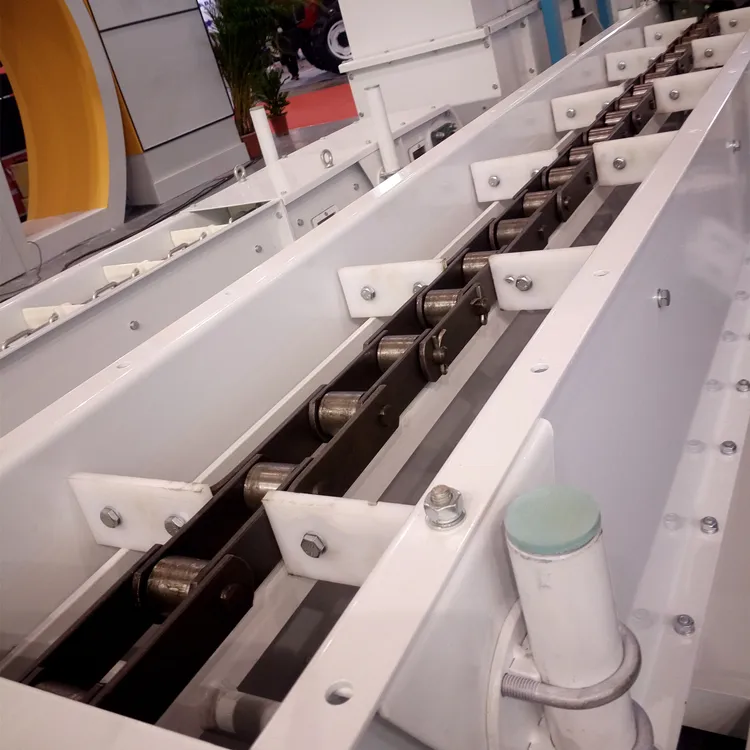 What are the maintenance requirements for agricultural chains?
Maintaining agricultural chains is essential to ensure their optimal performance and longevity. Here are the key maintenance requirements:
Lubrication: Regularly lubricate the chain to reduce friction and wear. Use a suitable lubricant to protect against rust and corrosion, especially in outdoor agricultural environments.
Inspection: Routinely inspect the chain for signs of wear, damage, or elongation. Look for loose pins, damaged plates, or any irregularities that may affect performance.
Tension Adjustment: Check the chain's tension and adjust it as needed. Proper tension ensures the chain functions smoothly and prevents premature wear.
Cleaning: Keep the chain clean by removing dirt, debris, and crop residues. Regular cleaning prevents contaminants from affecting the chain's operation and extends its life.
Replacement of Worn Parts: If any components, such as pins, bushings, or attachments, are significantly worn or damaged, replace them promptly to maintain the chain's integrity.
Environmental Considerations: In particularly harsh agricultural environments, consider using chains with appropriate coatings or materials to withstand chemical exposure and adverse weather conditions.
Proper Storage: When not in use, store the chains in a dry and clean environment to prevent rust and damage.
Regular maintenance not only ensures the agricultural chains' reliability but also helps prevent costly downtime and potential equipment damage. Following manufacturer guidelines and best practices is crucial for keeping agricultural chains in top condition throughout their service life.



editor by CX 2023-07-27