Product Description
TRANSMISSION ROLLER CHAIN
Feature
.  Long-life duration and high strength
.  Good performance of anti-rusty
.  Pre-stretching and running for each roll before delivery
.  All the chain parts are of complete heat-treatment and controlled within the standarded tolerance
.  Can produce any nonstandarded chain according to the drawing or sample
Production Range
1) A Series Short-Pitch Transmission Precision Roller Chain
25-1R, 35-1R, 40-1R, 50-1R , 60-1R, 80-1R, 100-1R, 120-1R, 140-1R, 160-1R, 180-1R, 200-1R, 240-1R
Double stand, triple strand are available
2). B Serieis Short-Pitch Transmission Precision Roller Chain
05B-1R, 06B-1R, 08B-1R, 10B-1R, 12B-1R, 16B-1R, 20B-1R, 24B-1R, 28B-1R, 32B-1R, 40B-1R, 48B-1R
Double stand, triple stand are available.
3). Short-Pitch Heavy Roller Chain
40H, 50H, 60H, 80H, 100H, 120H, 140H, 160H, 200H
4). Motorcycle Chain
25H, 219H, 420, 420H, 428, 428H, 520, 520H, 530, 530SH, 630
 
OTHER SERIES STEEL CHAIN
1. Conveyor chain: C2040, C2042, C2050, C2052, C2060, C2062, C2060H, C2062H, C2080, C2082, C2080H, C2082H, C2100, C2102, C2100H, C2120H, C2160, C2162, C2160H, C2162H, 
2. Hollow Pin Chain: C2040HP, C2050HP, C2042HP, C2052HP, C2060HP, C2062HP, C2080HP, C2082HP, 40HP, 50HP, 60HP, 80HP
3.  Agricultural Roller Chain: S32, S42, S45, S52, S55, S62, S77, S88, C550, C620, CA550, CA557, CA620
 
4. Welded Steel Cranked Link Mill Chain: W78, W82, W110, W111, W124, W132
5. Leaf Chain: BL622, BL623,BL634, BL644, BL646, BL666, BL688, BL822, BL823, BL834, BL844, BL846, BL866, BLF888, BL1571, BL1034, BL1046, BL1066, BL1222, BL1244, BL1288, BL1422, BL1444, BL1488, BL1622, BL1644, BL1688, BL2571, BL2034, BL2066, BL2088
6. Drop Forged Chain: X348, X458, X678, X689
7.  Chain Coupling: 4012, 4014, 4016, 5014, 5016, 5018, 6018, 6571, 6571, 8018, 8571, 8571, 10571, 12018
 
FAQ
Q1.  Can I have a sample order?
        Yes, any sample order is welcome to know the quality of our products.
Q2.  What about the lead time of the sample or the final order?
        2-5 days for normal sample.
        20-30 days for a formal order.
Q3. How much is the minimum quantity for each item in 1 order?
       Any quantity is ok to run.
Q4. Is it possible to print our logo or brand on the belt?
       Yes, we can print your logo or design on the belt after receipt of your formal authorization  letter of the logo or your brand.
Q5. Do you offer the guarantee for your product?
       Yes, usually we offer 1 year warranty for all of our products.
| | |
| --- | --- |
| Standard or Nonstandard: | Standard |
| Application: | Textile Machinery, Conveyer Equipment, Motorcycle, Food Machinery, Mining Equipment, Agricultural Machinery |
| Surface Treatment: | Polishing |
| Structure: | Roller Chain |
| Material: | Carbon Steel |
| Type: | Short Pitch Chain |
Samples:

US$ 0/Piece

1 Piece(Min.Order)

|
Request Sample
Customization:

Available

|

Customized Request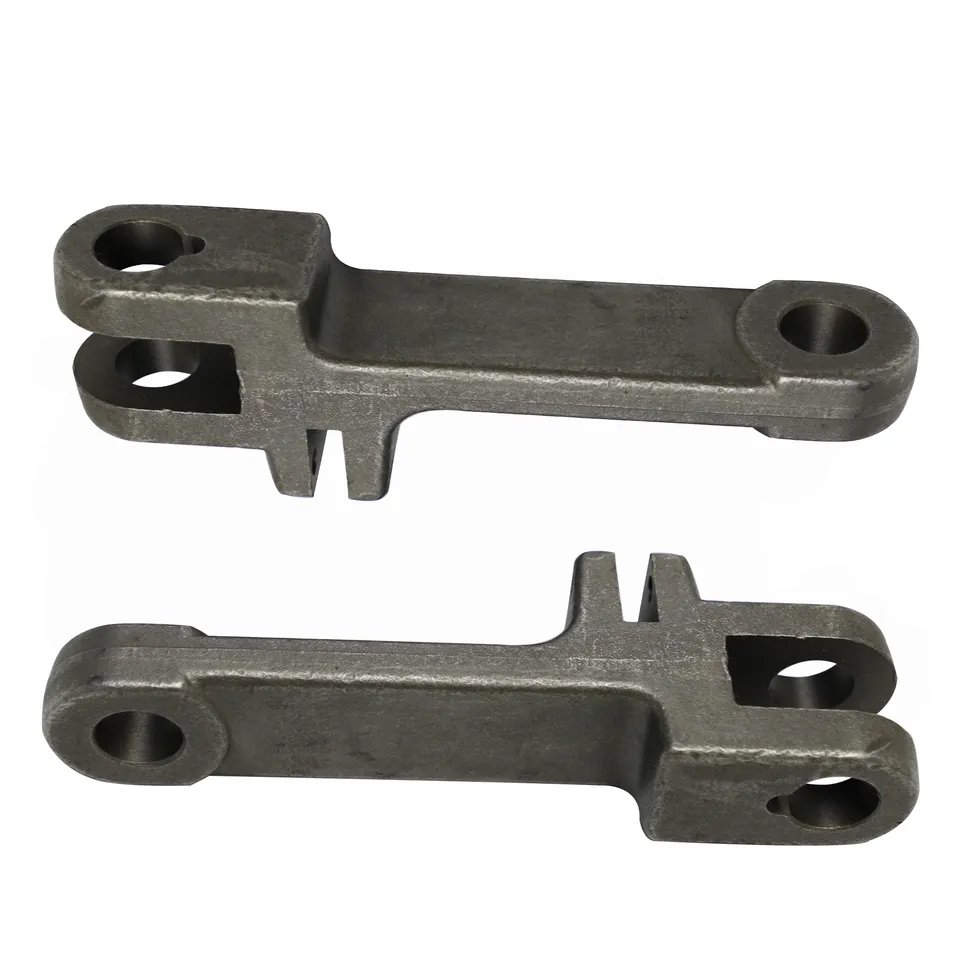 How do agricultural chains perform in extreme temperatures and weather conditions?
Agricultural chains are designed to withstand a wide range of environmental conditions, including extreme temperatures and various weather elements. Their performance in such conditions is influenced by several factors:
Material Selection: High-quality agricultural chains are typically made from durable and corrosion-resistant materials, such as stainless steel or zinc-coated steel. These materials provide enhanced resistance to temperature extremes and protect against rust and degradation.
Lubrication: Proper lubrication is crucial for agricultural chains to operate smoothly and efficiently, especially in extreme temperatures. Lubricants with high temperature resistance are used to ensure the chain remains well-lubricated and minimizes wear and friction.
Sealing and Protection: Some agricultural chains come with additional seals or protective coatings to shield the chain from contaminants, moisture, and harsh weather conditions. These features help extend the chain's lifespan and maintain its performance.
Heat Dissipation: In high-temperature environments, chains may generate heat during operation. Agricultural chains are designed with features to dissipate this heat effectively, preventing overheating and maintaining safe working temperatures.
In extreme cold temperatures, some agricultural chains may become more susceptible to brittleness and reduced flexibility. However, selecting chains with appropriate materials and lubrication can help mitigate these effects.
When operating in extreme weather conditions, regular maintenance and inspections are essential to ensure the chains remain in good working condition. This may include cleaning the chains, reapplying lubricants, and checking for signs of wear or damage.
Overall, high-quality agricultural chains, when properly maintained, demonstrate reliable performance even in extreme temperatures and weather conditions. Choosing the right chain type and ensuring proper maintenance are key factors in maximizing their longevity and functionality in challenging farming environments.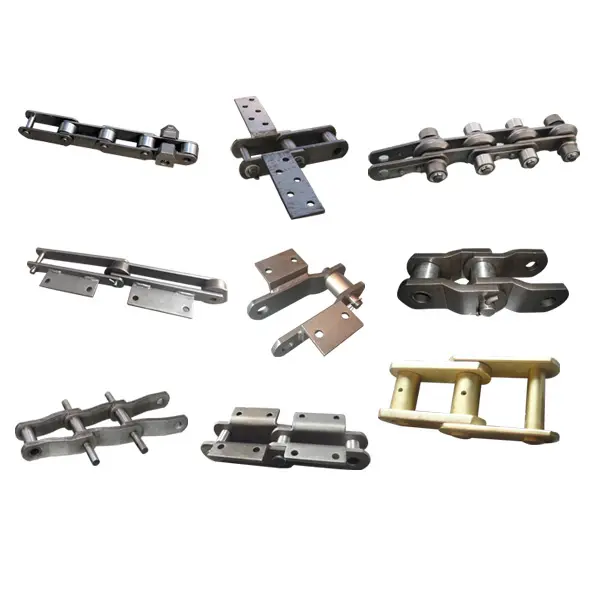 What are the common challenges faced by agricultural chains in the field?
Agricultural chains encounter several challenges in the field due to the demanding and harsh conditions of farming operations. Some of the common challenges include:
Abrasion and Wear: Agricultural chains often operate in dusty and abrasive environments. Soil particles, crop residues, and other debris can cause significant wear on the chain's components, leading to reduced efficiency and potential failure.
Corrosion: Exposure to moisture, fertilizers, and pesticides can cause corrosion in agricultural chains, especially if they are not adequately protected. Corrosion weakens the chain and shortens its lifespan.
High Loads and Shock Loads: Farming equipment frequently experiences high loads and shock loads during operations, such as when encountering tough soil or harvesting dense crops. These sudden force variations can put immense stress on the chains, leading to fatigue and breakage.
Misalignment: Improper alignment of sprockets and other chain components can result in uneven wear and reduced performance. Misalignment is a common issue that can lead to premature failure of the agricultural chain.
Temperature Extremes: Agricultural chains may be subjected to extreme temperature fluctuations, from hot summer days to freezing winter nights. Such temperature variations can affect the chain's material properties and lubrication, impacting its performance.
Contamination: The presence of dirt, debris, or crop residues can contaminate the chain's lubrication, reducing its effectiveness and increasing friction.
To address these challenges, it is essential to choose high-quality agricultural chains made from durable materials and provide regular maintenance. Proper lubrication, alignment, and protection from environmental factors can significantly extend the lifespan and reliability of agricultural chains in the field.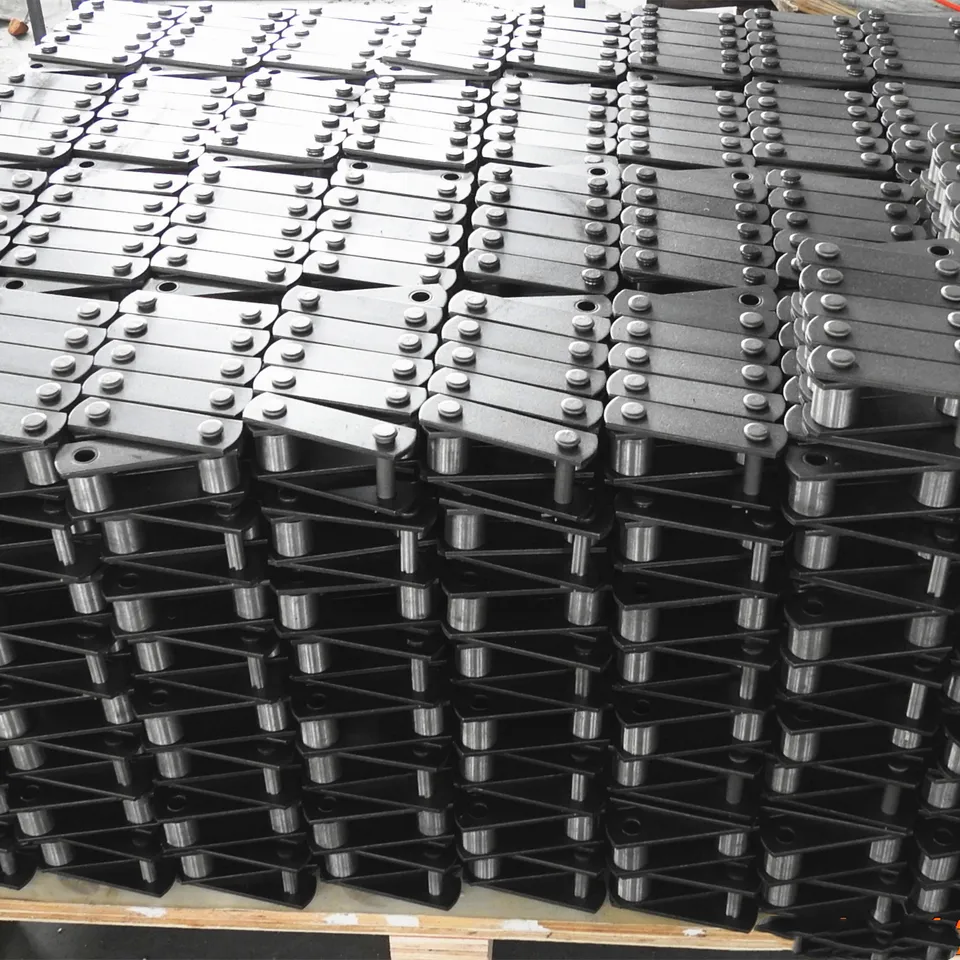 Can agricultural chains be used in different weather and climate conditions?
Yes, agricultural chains are designed to withstand a variety of weather and climate conditions commonly encountered in farming operations. These chains are built to be durable and reliable, making them suitable for use in diverse environments. Here are some considerations:
Hot and Dry Conditions: Agricultural chains can handle high temperatures and dry conditions commonly found in arid regions. Proper lubrication and maintenance are essential to prevent heat-related issues.
Cold and Freezing Conditions: In colder climates, agricultural chains can still function effectively with appropriate lubrication to prevent freezing and reduce wear.
Wet and Humid Conditions: Chains designed for agricultural use are often coated or made from materials that resist corrosion and rust, making them suitable for wet and humid environments.
Chemical Exposure: Some farming practices involve exposure to chemicals and fertilizers. Agricultural chains may have protective coatings or materials to withstand such exposure.
Extreme Weather Events: While agricultural chains can handle typical weather conditions, extreme events like hurricanes or floods may require temporary precautions or special protection.
Manufacturers consider these factors during the design and production of agricultural chains, ensuring they perform reliably in various weather and climate conditions. However, proper maintenance and adherence to manufacturer guidelines are crucial to maintaining the chains' functionality and longevity.



editor by CX 2023-10-09