Product Description
TRANSMISSION ROLLER CHAIN
Feature
.  Long-life duration and high strength
.  Good performance of anti-rusty
.  Pre-stretching and running for each roll before delivery
.  All the chain parts are of complete heat-treatment and controlled within the standarded tolerance
.  Can produce any nonstandarded chain according to the drawing or sample
Production Range
1) A Series Short-Pitch Transmission Precision Roller Chain
25-1R, 35-1R, 40-1R, 50-1R , 60-1R, 80-1R, 100-1R, 120-1R, 140-1R, 160-1R, 180-1R, 200-1R, 240-1R
Double stand, triple strand are available
2). B Serieis Short-Pitch Transmission Precision Roller Chain
05B-1R, 06B-1R, 08B-1R, 10B-1R, 12B-1R, 16B-1R, 20B-1R, 24B-1R, 28B-1R, 32B-1R, 40B-1R, 48B-1R
Double stand, triple stand are available.
3). Short-Pitch Heavy Roller Chain
40H, 50H, 60H, 80H, 100H, 120H, 140H, 160H, 200H
4). Motorcycle Chain
25H, 219H, 420, 420H, 428, 428H, 520, 520H, 530, 530SH, 630
 
OTHER SERIES STEEL CHAIN
1. Conveyor chain: C2040, C2042, C2050, C2052, C2060, C2062, C2060H, C2062H, C2080, C2082, C2080H, C2082H, C2100, C2102, C2100H, C2120H, C2160, C2162, C2160H, C2162H, 
2. Hollow Pin Chain: C2040HP, C2050HP, C2042HP, C2052HP, C2060HP, C2062HP, C2080HP, C2082HP, 40HP, 50HP, 60HP, 80HP
3.  Agricultural Roller Chain: S32, S42, S45, S52, S55, S62, S77, S88, C550, C620, CA550, CA557, CA620
 
4. Welded Steel Cranked Link Mill Chain: W78, W82, W110, W111, W124, W132
5. Leaf Chain: BL622, BL623,BL634, BL644, BL646, BL666, BL688, BL822, BL823, BL834, BL844, BL846, BL866, BLF888, BL1571, BL1034, BL1046, BL1066, BL1222, BL1244, BL1288, BL1422, BL1444, BL1488, BL1622, BL1644, BL1688, BL2571, BL2034, BL2066, BL2088
6. Drop Forged Chain: X348, X458, X678, X689
7.  Chain Coupling: 4012, 4014, 4016, 5014, 5016, 5018, 6018, 6571, 6571, 8018, 8571, 8571, 10571, 12018
 
FAQ
Q1.  Can I have a sample order?
        Yes, any sample order is welcome to know the quality of our products.
Q2.  What about the lead time of the sample or the final order?
        2-5 days for normal sample.
        20-30 days for a formal order.
Q3. How much is the minimum quantity for each item in 1 order?
       Any quantity is ok to run.
Q4. Is it possible to print our logo or brand on the belt?
       Yes, we can print your logo or design on the belt after receipt of your formal authorization  letter of the logo or your brand.
Q5. Do you offer the guarantee for your product?
       Yes, usually we offer 1 year warranty for all of our products.
| | |
| --- | --- |
| Standard or Nonstandard: | Standard |
| Application: | Textile Machinery, Conveyer Equipment, Motorcycle, Food Machinery, Mining Equipment, Agricultural Machinery |
| Surface Treatment: | Polishing |
| Structure: | Roller Chain |
| Material: | Carbon Steel |
| Type: | Short Pitch Chain |
Samples:

US$ 0/Piece

1 Piece(Min.Order)

|
Request Sample
Customization:

Available

|

Customized Request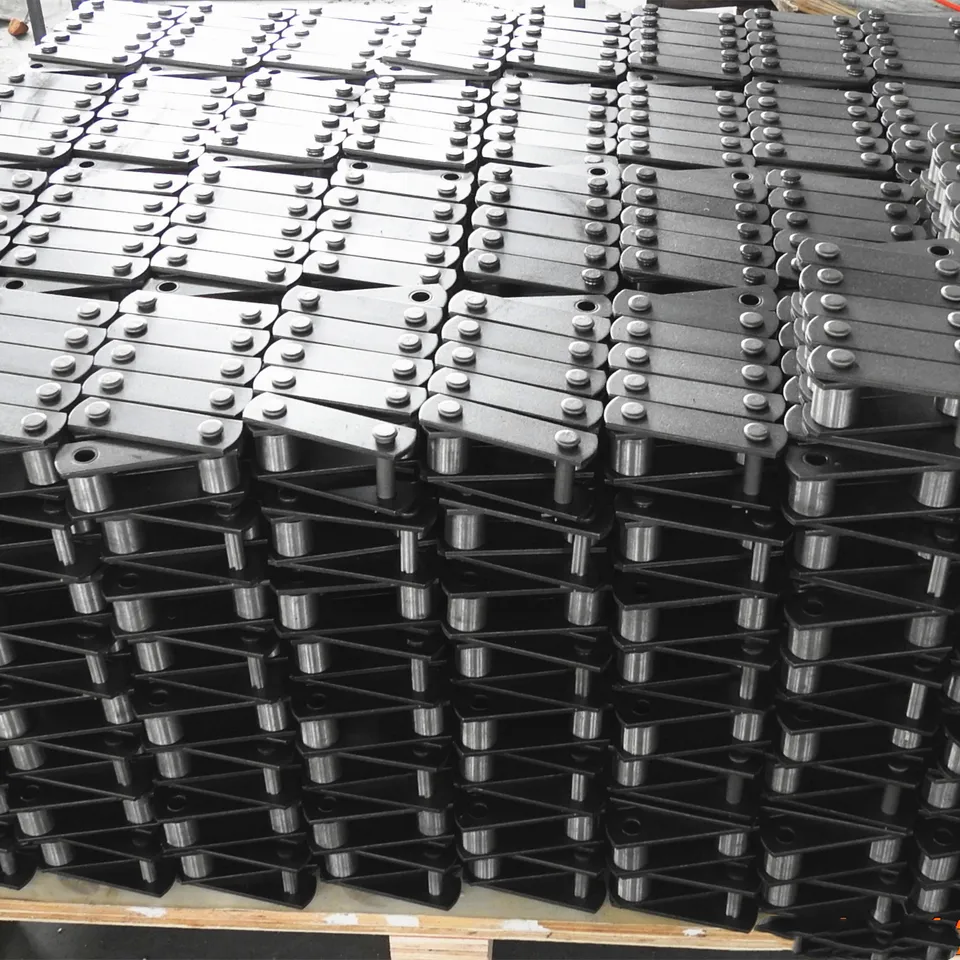 Can agricultural chains be used in post-harvest processing and packaging equipment?
Yes, agricultural chains can be used in post-harvest processing and packaging equipment to facilitate the efficient handling and transportation of agricultural products after they have been harvested. Here are some ways agricultural chains are utilized in post-harvest processing:
Conveying Systems: Agricultural chains are commonly used in conveyor systems to move harvested crops or produce through various processing stages. These chains can withstand the weight of the products and provide smooth and reliable transport, ensuring a continuous flow of materials during processing.
Elevators and Lifts: Post-harvest processing may involve elevating or lifting agricultural products to different levels for further processing or packaging. Agricultural chains, along with sprockets and sheaves, are used in elevators and lifts to handle vertical movements efficiently.
Sorting and Grading Machines: In post-harvest processing facilities, sorting and grading machines are employed to classify agricultural products based on size, quality, and other characteristics. Agricultural chains are integral components in these machines, ensuring precise and accurate movement of products through the sorting and grading processes.
Packaging Equipment: Agricultural chains are utilized in packaging equipment, such as bagging machines or carton sealing machines, to facilitate the packaging of processed agricultural products into containers or bags. These chains help in guiding and aligning the packages during the packaging process.
Washing and Cleaning Systems: After harvesting, some agricultural products may require washing or cleaning to remove dirt or debris. Agricultural chains are used in washing and cleaning systems to transport products through water baths or cleaning stations effectively.
The use of agricultural chains in post-harvest processing and packaging equipment enhances the overall efficiency and productivity of the agricultural supply chain. These chains are designed to withstand the demands of post-harvest operations, such as heavy loads, continuous operation, and exposure to varying environmental conditions. Additionally, agricultural chains are available in different materials and configurations to suit specific processing needs.
In conclusion, agricultural chains play a crucial role in post-harvest processing and packaging equipment, contributing to the seamless handling, sorting, and packaging of agricultural products, ultimately ensuring their quality and readiness for distribution and consumption.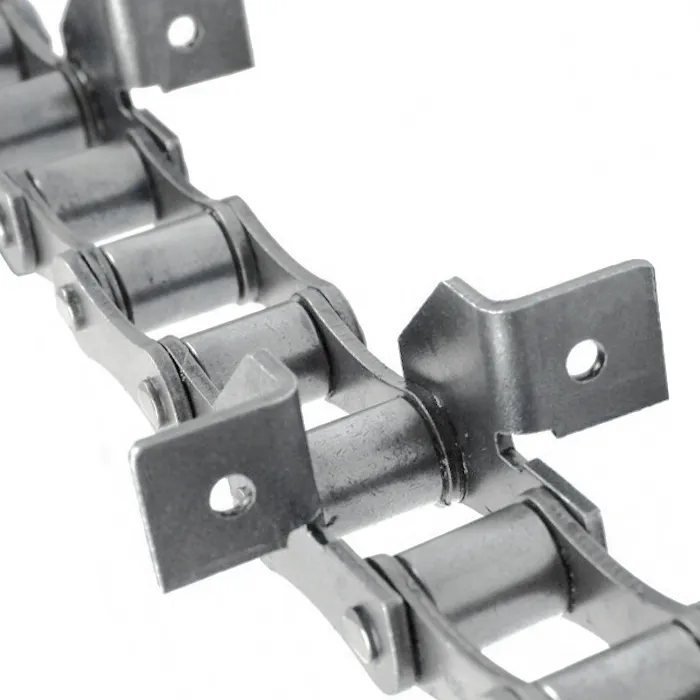 How do agricultural chains handle heavy loads and high torque requirements?
Agricultural chains are designed to handle heavy loads and high torque requirements commonly encountered in farming machinery. Here's how they achieve this:
High-Quality Materials: Agricultural chains are typically made from high-quality alloy steels that offer excellent tensile strength, toughness, and resistance to wear. These materials can withstand the stress and strain of heavy loads and high torque, ensuring the chain's integrity under demanding conditions.
Robust Design: The design of agricultural chains includes precision engineering to ensure optimal load distribution and efficient power transmission. The components are manufactured to specific dimensions, allowing them to mesh smoothly with sprockets and transmit torque effectively.
Large Contact Areas: Agricultural chains often have large contact areas with sprocket teeth, which helps distribute the load more evenly, reducing stress concentration on individual components. This design feature enhances the chain's ability to handle heavy loads and torque.
Heat Treatment: Many agricultural chains undergo heat treatment processes like carburizing or induction hardening. These treatments improve the chain's surface hardness, wear resistance, and fatigue strength, making it more capable of handling heavy loads and high torque without premature failure.
Preloading and Lubrication: Proper preloading of the chain during assembly and regular lubrication are essential to reduce friction and wear. Adequate lubrication also helps dissipate heat generated during operation, preventing excessive wear and elongation of the chain under heavy loads.
Regular Maintenance: Regular maintenance and inspection are vital to ensuring that agricultural chains remain in optimal condition. Periodic checks for signs of wear, proper tension, and lubrication help prevent unexpected failures and extend the chain's service life.
In conclusion, agricultural chains are built with robust materials, precise design, and appropriate treatments to handle heavy loads and high torque requirements effectively. When used and maintained correctly, they contribute to the reliable and efficient operation of various farming equipment.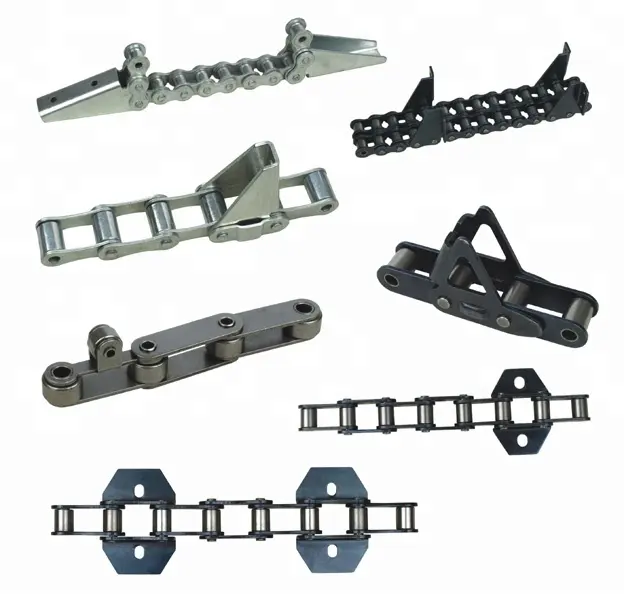 What are the key features to consider when selecting an agricultural chain?
When selecting an agricultural chain, several key features need to be considered to ensure its optimal performance and longevity in farming equipment. These features include:
Material: The material of the agricultural chain is crucial as it affects its strength, durability, and resistance to wear and corrosion. Chains are commonly made from carbon steel, stainless steel, or alloy steel, with each offering different properties suited to specific applications.
Tensile Strength: The tensile strength of the chain determines its load-carrying capacity. It's essential to choose a chain with adequate tensile strength to handle the maximum loads encountered in the application.
Pitch Size: The pitch size refers to the distance between the center of one chain pin to the center of the next pin. It's crucial to select the correct pitch size to ensure compatibility with the sprockets or gears in the agricultural machinery.
Working Conditions: Consider the operating environment of the agricultural equipment, including temperature, moisture levels, and exposure to dirt and debris. Choosing a chain that can withstand the specific working conditions will enhance its performance and longevity.
Lubrication Requirements: Some chains may require regular lubrication to reduce friction and wear. Assessing the lubrication needs and the ability to maintain proper lubrication in the application is essential for chain performance.
Corrosion Resistance: In certain agricultural applications, exposure to moisture or chemicals can lead to corrosion. Choosing a chain with excellent corrosion resistance ensures a longer service life in such environments.
Load Distribution: Consider how the load will be distributed across the chain and the number of strands required to handle the load efficiently. Improper load distribution can lead to premature wear and failure.
Installation and Maintenance: Evaluate the ease of installation and maintenance requirements of the chain. Chains that are easy to install and maintain can reduce downtime and enhance productivity.
By carefully considering these key features and matching them to the specific requirements of the agricultural equipment and application, farmers and agricultural workers can select the most suitable agricultural chain for their needs, ensuring reliable and efficient operation.



editor by CX 2023-10-26