Product Description
Chain No
Pitch
Width
Between
Inner Plates
Pin
Dia
Pin
Length
Inner
Plate
Depth
Average
Tensile
Strength
Weight
 
Mm
mm
mm
mm
mm
mm
Kn
kg/m
04B-1
6.000
2.80
1.85
6.80
5.00
3.2
0.11
05B-1
8.000
3.00
2.31
8.20
7.10
5.9
0.20
*06B-1
9.525
5.72
3.28
13.15
8.20
10.4
0.41
08B-1
12.700
7.75
4.45
16.70
11.80
19.40
0.69
10B-1
15.875
9.65
5.09
19.50
14.70
27.50
0.93
12B-1
19.050
11.68
5.72
22.50
16.00
32.20
1.15
16B-1
25.400
17.02
8.28
36.10
21.00
72.80
2.71
20B-1
31.750
19.56
10.19
41.30
26.40
106.7
3.70
24B-1
38.100
25.40
14.63
53.40
33.20
178.0
7.10
28B-1
44.450
30.99
15.90
65.10
36.70
222.0
8.50
32B-1
50.800
30.99
17.81
66.00
42.00
277.5
10.25
40B-1
63.50
38.10
22.89
82.20
52.96
394.0
16.35
48B-1
76.20
45.72
29.24
99.10
63.80
621.6
25.00
56B-1
88.90
53.34
34.32
114.60
77.80
940.0
35.78
Our company offers variety of products which can meet your multifarious demands. We adhere to the management principles of "quality first, customer first and credit-based" since the establishment of the company and always do our best to satisfy potential needs of our customers. Our company is sincerely willing to cooperate with enterprises from all over the world in order to realize a CZPT situation since the trend of economic globalization has developed with anirresistible force.
| | |
| --- | --- |
| Standard or Nonstandard: | Standard |
| Application: | Food Machinery |
| Structure: | Roller Chain |
| Material: | Stainless Steel |
| Type: | Double Pitch Chain |
| Function: | Transmisssion |
Customization:

Available

|

Customized Request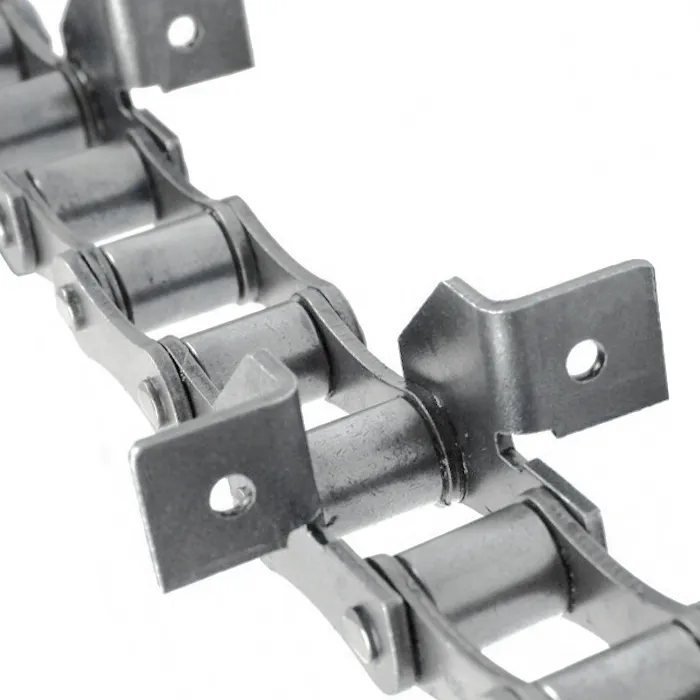 Can agricultural chains be used in grain handling and storage systems?
Yes, agricultural chains are commonly used in grain handling and storage systems in the agricultural industry. These chains play a vital role in efficiently transporting, elevating, and storing grains in silos and storage facilities. Here's how agricultural chains contribute to the grain handling and storage process:
Conveying Grains: Agricultural chains are utilized in conveyor systems to move grains from one point to another within the grain handling facility. They are designed to handle heavy loads and resist wear, making them suitable for continuous and demanding grain transportation tasks.
Elevating Grains: In grain elevators, agricultural chains are used to lift and move grains vertically between different levels. These chains are engineered to withstand the vertical forces and provide reliable and smooth grain elevation.
Distributing Grains: Agricultural chains are also employed in distribution systems to evenly spread grains in storage bins and silos. Their precision and consistency ensure uniform distribution, optimizing storage capacity and grain quality.
Operating in Harsh Environments: Grain handling and storage facilities are often exposed to dusty and abrasive conditions. Agricultural chains are designed with durable materials and specialized coatings to withstand these harsh environments, reducing the risk of chain failures and downtime.
Corrosion Resistance: For outdoor grain storage systems, agricultural chains with corrosion-resistant properties are available to withstand exposure to moisture and prevent rusting.
Overall, agricultural chains are a reliable and efficient solution for grain handling and storage applications. They ensure smooth and continuous grain flow, contributing to the productivity and effectiveness of grain storage facilities, helping farmers and grain handlers efficiently manage and store their harvests.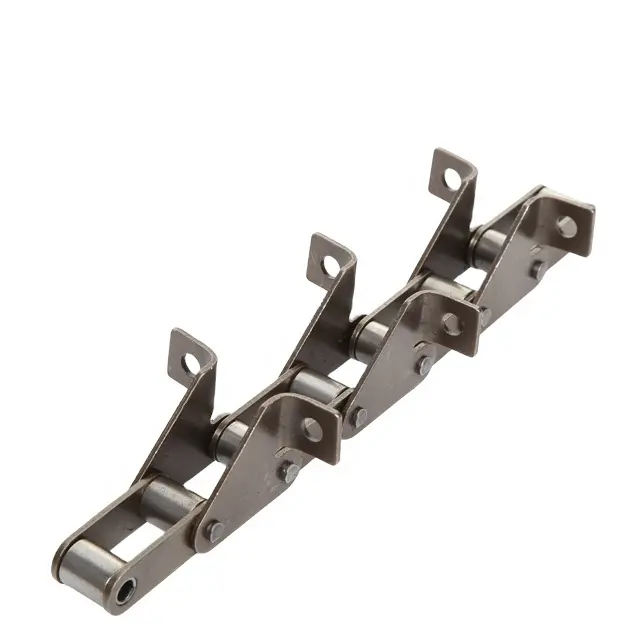 What are the best practices for maintaining agricultural chains?
Maintaining agricultural chains is essential to ensure their longevity, reliability, and optimal performance in farming operations. Here are some best practices for maintaining agricultural chains:
Regular Inspection: Conduct routine visual inspections of the chains to check for signs of wear, damage, or misalignment. Look for elongation, corrosion, and broken links.
Lubrication: Proper lubrication is crucial for reducing friction and wear. Follow the manufacturer's guidelines to apply the right type and amount of lubricant regularly.
Tension Adjustment: Maintain the correct tension in the chains. Loose chains can lead to jumping or skipping, while overtightened chains can cause premature wear.
Cleanliness: Keep the chains clean and free from debris, dirt, and crop residues that can cause abrasive wear and damage.
Environmental Protection: Store agricultural equipment in a dry and covered environment when not in use to prevent rust and corrosion.
Replacement of Worn Parts: Replace any worn-out or damaged components, such as sprockets, pins, and bushings, as they can affect chain performance.
Proper Use: Operate agricultural machinery within recommended loads and operating conditions to avoid excessive stress on the chains.
Training and Operator Awareness: Train equipment operators on proper chain maintenance and raise awareness of the importance of regular inspections and care.
By adhering to these best practices, farmers and agricultural equipment operators can maximize the lifespan of their agricultural chains and minimize downtime due to chain-related issues. Regular maintenance not only enhances chain performance but also contributes to the overall efficiency and productivity of farming operations.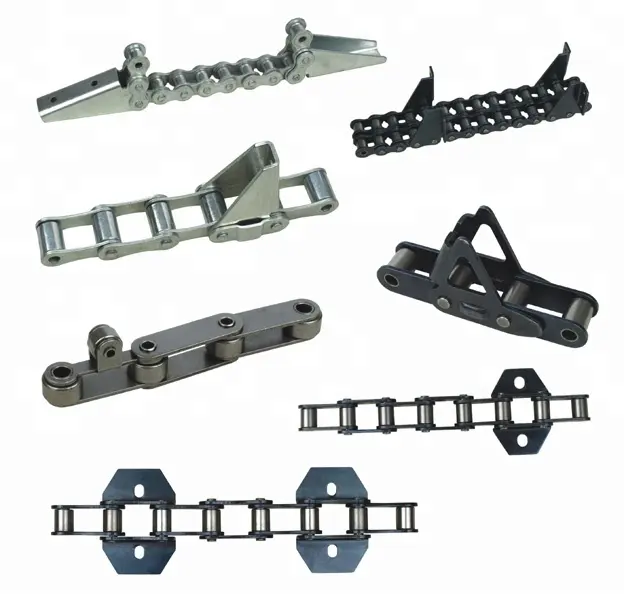 What are the key features to consider when selecting an agricultural chain?
When selecting an agricultural chain, several key features need to be considered to ensure its optimal performance and longevity in farming equipment. These features include:
Material: The material of the agricultural chain is crucial as it affects its strength, durability, and resistance to wear and corrosion. Chains are commonly made from carbon steel, stainless steel, or alloy steel, with each offering different properties suited to specific applications.
Tensile Strength: The tensile strength of the chain determines its load-carrying capacity. It's essential to choose a chain with adequate tensile strength to handle the maximum loads encountered in the application.
Pitch Size: The pitch size refers to the distance between the center of one chain pin to the center of the next pin. It's crucial to select the correct pitch size to ensure compatibility with the sprockets or gears in the agricultural machinery.
Working Conditions: Consider the operating environment of the agricultural equipment, including temperature, moisture levels, and exposure to dirt and debris. Choosing a chain that can withstand the specific working conditions will enhance its performance and longevity.
Lubrication Requirements: Some chains may require regular lubrication to reduce friction and wear. Assessing the lubrication needs and the ability to maintain proper lubrication in the application is essential for chain performance.
Corrosion Resistance: In certain agricultural applications, exposure to moisture or chemicals can lead to corrosion. Choosing a chain with excellent corrosion resistance ensures a longer service life in such environments.
Load Distribution: Consider how the load will be distributed across the chain and the number of strands required to handle the load efficiently. Improper load distribution can lead to premature wear and failure.
Installation and Maintenance: Evaluate the ease of installation and maintenance requirements of the chain. Chains that are easy to install and maintain can reduce downtime and enhance productivity.
By carefully considering these key features and matching them to the specific requirements of the agricultural equipment and application, farmers and agricultural workers can select the most suitable agricultural chain for their needs, ensuring reliable and efficient operation.



editor by CX 2023-09-11