Product Description
Product Description
HRSY Roller Chain Profile

Standard:

ANSI, DIN, ISO

Type:        

Drive chains, Conveyor chains, Engineering chains, Agricultural chains, Traction chains, Escalator chains

Drive chain

Short pitch precision roller chain (A series, B series, Hevey duty series roller chain) 

High strength short pitch roller chains
Corrosion resistant short pitch roller chain

Self-lubrication roller chain

O-Ring chains

Oil filed chains

Heavy duty cranked-link transmission chains

Double pitch transmission chains

Inverted tooth chains

Motorcycle chains

Other (Driver chains)

Conveyor chains

Conveying roller chains

Rubber attached plate chains

Printing iron drying room line chains

Double hinged conveyor chains

Metric (M type) conveyor chains

FV series conveyor chains

Wooden conveyor chains

Chains for food packaging machinery

Conveyor chains for paper roll

Engineering chains

Conveying chains for cement industry

Scraper conveyor chains

Conveyor chains for coal washer

Rubber gloves carrier chains

Steel sleeve chain for engineering

Welded-steel-type mill chains

Sugar machine chains

Conveyor chains for steel mill

Agricultural chains

Agricultural machinery drive chains

Steel pintle chains 

ZGS38 combine harvester chains

Rice harvester chains

S type C type
Steel roller chains

Others

Traction chains

Plate chains

Leaf chains for sky stacker

Traction chains

Others

Escalator chains

Escalator step chains

Escalator driver chains

Material

40Mn, 45Mn, SS316, SS304, SS201

Advantage

We have competitive price and high quality.

Our stock standard length: 5ft each piece, 10ft each piece.

Custom length: We can custom according to your demand.

We can accept your Logo, accept ODM, OEM.
Detailed Photos
Packaging & Shipping
Company Profile
ZheJiang Haorongshengye Electrical Equipment Co., Ltd.
1. Was founded in 2008
2. Our Principle:
"Credibility Supremacy, and Customer First"
3. Our Promise:
"High quality products, and Excellent Service"
4. Our Value:
"Being Honesty, Doing the Best, and Long-lasting Development"
5. Our Aim:
"Develop to be a leader in the power transmission parts industry in the world"
 
6.Our services:

1).Competitive price

2).High quality products

3).OEM service or can customized according to your drawings

4).Reply your inquiry in 24 hours

5).Professional technical team 24 hours online service

6).Provide sample service
Main products
Machines
Exbihition
| | |
| --- | --- |
| Standard or Nonstandard: | Standard |
| Application: | Textile Machinery, Garment Machinery, Conveyer Equipment, Packaging Machinery, Electric Cars, Motorcycle, Food Machinery, Marine, Mining Equipment, Agricultural Machinery, Car |
| Surface Treatment: | Oil Blooming |
| Structure: | Roller Chain |
| Material: | Stainless Steel |
| Type: | Short Pitch Chain |
Samples:

US$ 50/Meter

1 Meter(Min.Order)

|
Request Sample
Customization:

Available

|

Customized Request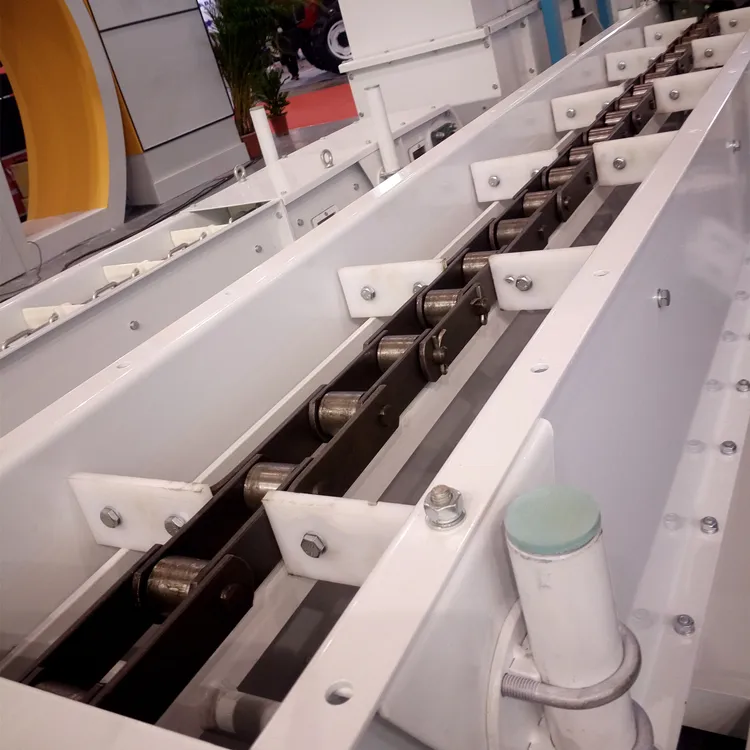 What are the advantages of using stainless steel agricultural chains in specific applications?
Stainless steel agricultural chains offer numerous advantages in specific applications, particularly in demanding and corrosive environments. Here are some key benefits:
Corrosion Resistance: Stainless steel chains are highly resistant to corrosion, making them ideal for applications where chains are exposed to moisture, chemicals, or harsh outdoor conditions. They are particularly suitable for agricultural machinery used in humid or corrosive environments.
Longevity: Stainless steel chains have excellent durability and longevity, even in challenging agricultural settings. They can withstand wear and tear, extending the service life of the chain and reducing the frequency of replacements.
Hygienic Properties: In certain agricultural applications, such as food processing or animal farming, maintaining a hygienic environment is critical. Stainless steel chains are easy to clean and are less prone to accumulating dirt, bacteria, or contaminants, ensuring compliance with hygiene standards.
Strength: Despite their corrosion resistance, stainless steel chains remain strong and robust. They can handle heavy loads and high-torque requirements, making them suitable for various agricultural machinery and equipment.
Temperature Resistance: Stainless steel chains can withstand a wide range of temperatures, making them suitable for use in both hot and cold climates. This versatility allows them to perform well in diverse agricultural settings.
Chemical Resistance: Agricultural applications often involve exposure to fertilizers, pesticides, and other chemicals. Stainless steel chains' resistance to chemical corrosion ensures reliable performance in such environments.
Reduced Maintenance: Due to their high resistance to corrosion and wear, stainless steel chains require less frequent maintenance and lubrication compared to other chain materials. This results in cost savings and less downtime for agricultural equipment.
The use of stainless steel agricultural chains can significantly improve the efficiency and reliability of specific farming applications. However, it is essential to consider the specific requirements of the application, such as load capacity, environmental conditions, and operating temperatures, to select the most suitable type of stainless steel chain for optimal performance and longevity.
In conclusion, stainless steel agricultural chains are a valuable choice for applications where corrosion resistance, strength, and durability are paramount, making them well-suited for various agricultural machinery and environments.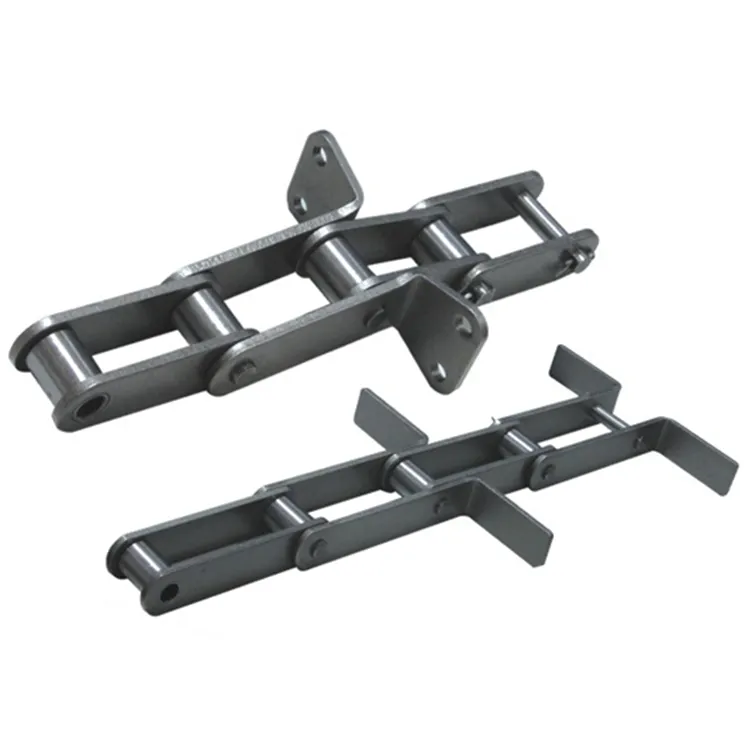 What are the environmental considerations when using agricultural chains?
When using agricultural chains, there are several important environmental considerations that should be taken into account:
Material Selection: The choice of materials for agricultural chains can have an impact on the environment. Opting for materials with high durability and corrosion resistance can extend the chain's lifespan, reducing the frequency of replacements and minimizing waste.
Lubrication: Proper lubrication of agricultural chains is essential for reducing friction, wear, and energy consumption. However, it's essential to choose environmentally-friendly lubricants to avoid contamination of the soil and surrounding ecosystem.
Waste Management: Proper waste management is crucial when agricultural chains reach the end of their service life. Recycling and reusing materials whenever possible can reduce the environmental impact of discarded chains.
Energy Efficiency: Agricultural machinery that utilizes chains should be designed for optimal energy efficiency. Efficient machinery reduces fuel consumption, greenhouse gas emissions, and overall environmental impact.
Environmental Regulations: Complying with local and regional environmental regulations is essential. These regulations may include restrictions on the use of certain materials, lubricants, or waste disposal methods.
Preventing Contamination: In some agricultural applications, such as those involving fertilizers or pesticides, preventing contamination of soil and water sources is critical. Proper maintenance and containment practices can help minimize potential risks.
Conservation: Using agricultural chains in sustainable farming practices, such as conservation tillage or precision agriculture, can contribute to soil health, water conservation, and overall environmental preservation.
By considering these environmental factors and implementing responsible practices, farmers and agricultural industries can minimize the ecological footprint of using agricultural chains. Sustainable chain management and environmentally-friendly approaches to agriculture contribute to a healthier and more sustainable future for farming and the environment as a whole.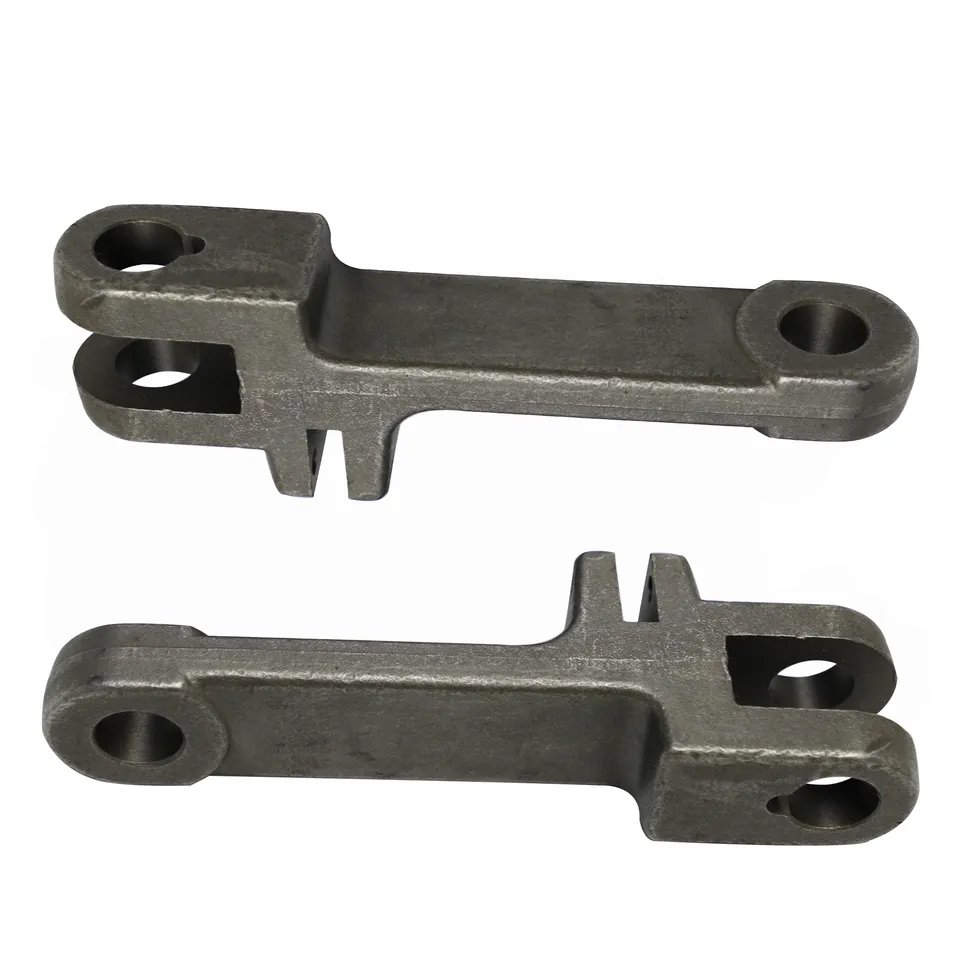 What materials are commonly used in manufacturing agricultural chains?
Agricultural chains are manufactured using various materials, each offering specific characteristics suitable for different farming applications. The most commonly used materials include:
Carbon Steel: Carbon steel is a widely used material for agricultural chains due to its excellent strength, durability, and affordability. It is suitable for general-purpose chains used in many agricultural applications.
Alloy Steel: Alloy steel chains are made by adding alloying elements to carbon steel, enhancing their strength and toughness. These chains are ideal for heavy-duty applications that require increased load-bearing capacity.
Stainless Steel: Stainless steel chains are corrosion-resistant and maintain their strength and appearance even in harsh environments. They are commonly used in applications where resistance to rust and chemicals is essential, such as in poultry and food processing equipment.
Plastic and Polymer: Some agricultural chains are made of plastic or polymer materials, which offer benefits like low friction, lightweight, and corrosion resistance. They are used in applications where noise reduction and low maintenance are priorities.
Galvanized Steel: Galvanized chains are coated with a layer of zinc, providing additional protection against corrosion. They are suitable for outdoor applications exposed to moisture and agricultural chemicals.
The choice of material depends on factors such as the specific agricultural application, the operating environment, required strength, and budget considerations. Manufacturers select the appropriate material to ensure that the agricultural chains can withstand the demanding conditions of farming operations and contribute to the overall efficiency and productivity of the equipment.



editor by CX 2023-07-26