Product Description
Product Description
Agricultural chain,
1. Made of Alloy steel 40Mn
2. Type as CA type, A type, C type, S type, A type and Rice harvester chains
Agricultural Chain:
Our factory has manufactured agricultural chains for more than 10 years. All kinds of Agricultural chains, such as Walking tractor chains, Rice Harvest chains, Combine chains, A type steel agricultural chains, CA type steel agricultura chains, C type, A type chains, and with attachments. Such as CA550, CA557, S52, S32…
Product Attribute
Usage

Agricultural roller chain

Material

45Mn, 30GeMnTi, #10, 20Mn

Surface Treatment

netural/sand-blasted/shot-peening
application area
Rice machinery, harvester and other agricultural machinery
product type
S Type Steel Agricultural Chain with Attachments
C Type Steel Agricultural Chain with Attachments
A Type Steel Agricultural Chain with Attachments
CA Type Steel Agricultural Chain with Attachments
 
certificate
ISO,SGS,ANSI,DIN
Port

Any sea port or airport in china

Payment

L/C, T/T, D/P, Western Union

Package

Chain, Plastic Bag, Color Box, Wooden Case. or OEM

S Type
S32,S32V,S42,S45,S51,S52,

55V,55VF1,S55,S55R,S55RH,S62,S77,S88
 

C Type
CA550,CA550V,CA555,CA557,CA620,CA2060H,CA2063H,CA550F4,CA550F5

38.4R,38.4V,55VD,S62F3,CA960
 

A Type
A550,A555,A557,A620
 
CA Type
CA627,CA550D,CA557D,CA620D
 
We also carry out OEM according to your requirements
 
Detailed Photos
Product Parameters
Our Advantages
Company advantages:
Own Import & Export License, The TV trade mark registered successfully in many countries, Sales network spread all over China, Products export to 65 countries in 5 continents.
Membership:
1. The member of China General Machine Components Industry Association.
2. The member of China Chain Transmission Association.
3. The member of China Chain Standardization Association.
4. The member of China Agricultural Association Machinery Manufacturers.
With our excellent trained staffs and workers, advanced and efficient equipments, completely sales network, strict QA systems. You are confidence that our premium qualified chain can meet all customers' specification and strictest quality standards.
WHY CHOOSE US
Comprehensive Product Portfolio We produce and supply a wide range of power transmission
products including drive chains, leaf chains, conveyor chains, agricultural chains, sprockets, and
couplings. This one-store-for-all shopping experience will significantly reduce your searching costs while
guarantee youfind what you want at 1 click.
Value Choice Products Our products are the best combination of quality and price, and you get what
you want within your budgets
Seasoned Sales Associates and Engineers We have 15 seasoned sales associates and 5 engineers;
on our team at your disposal any time when you need a helping hand. They are well trained with industry
know-now and will always respond to your requests within 24 hours.
100% Customer Retention Rate Our regular customers from overseas come back not just for our
premium quality products, but for the superior services that we've provided over the years.
FAQ
Q1: What's your average lead time?
A: It varies. Our regular end-to-end lead time is 1-2 months.. We also provide express shipments for rush orders. For details,please consult our sales associate.
Q2: Is your price better than your competitors given the same quality?
A: Definitely YES. We provide the most competitive price in the power transmission industry. If price disparity exists, we'll be more than happy to do a price match.
Q3: Can you make chains according to my CAD drawings?
A: Yes. Besides the regular standard chains, we produce non-standard and custom-design products to meet the specific technical requirements. In reality, a sizable portion of our production capacity is assigned to make non-standard products.
Q4: Can we inspect the goods before shipment?
A: Yes. You or your representative or any third-party inspection party assigned is allowed access to our facility and do the inspection.
Q5: What kind of payment method is acceptable for your mill?
A: We're flexible. We take T/T, L/C, or any other online payment methods so long as it's applicable for you.
Q6: What if I have any other questions?
A: Whenever in doubt, you're always encouraged to consult our sales associate any time – They will help you to your satisfaction.
Shipping Cost:

Estimated freight per unit.





To be negotiated
| | |
| --- | --- |
| Type: | Agricultural Chain |
| Usage: | Grain Threshing, Cleaning and Drying |
| Material: | Carbon Steel |
Samples:

US$ 100/Meter

1 Meter(Min.Order)

|

Order Sample
Customization:

Available

|

Customized Request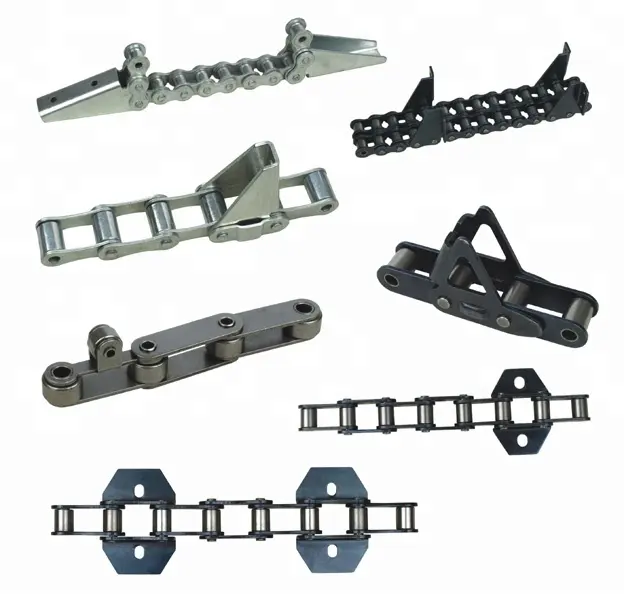 Can agricultural chains be used in modern drone and UAV-based farming applications?
Yes, agricultural chains can be utilized in modern drone and UAV-based farming applications, playing a crucial role in the efficiency and effectiveness of these advanced agricultural practices. Drones and UAVs (Unmanned Aerial Vehicles) have revolutionized the way farming is conducted by offering precision agriculture solutions. Here's how agricultural chains are involved in this context:
Payload Distribution: Agricultural chains can be employed in the design of drone payload delivery systems. These chains are responsible for controlling the accurate distribution of seeds, fertilizers, pesticides, or other agricultural inputs from the drone to the field. The chains ensure precise and controlled release, optimizing crop management and reducing waste.
Drone Propulsion: Some drones utilize propulsion systems that may incorporate chains to efficiently transmit power from the motor to the propellers. These chains enable the conversion of motor torque into rotational motion, allowing the drone to take off, fly, and hover smoothly.
Flight Control Mechanism: In certain drone designs, agricultural chains may be employed as part of the flight control mechanism. These chains aid in adjusting the orientation and positioning of the drone's components, enabling stable flight and accurate navigation during aerial surveys and data collection.
Tensioning and Balance: Agricultural chains can be utilized in ensuring proper tensioning and balance within the drone's mechanical systems. Maintaining the right tension in the chains is critical for smooth and reliable drone operation, especially in challenging weather conditions or when carrying heavy loads.
Automation and Precision: Drones equipped with agricultural chains and related systems can be integrated into precision agriculture practices. The chains contribute to the accuracy and repeatability of tasks, such as planting, crop monitoring, and crop spraying, resulting in optimized resource utilization and higher yields.
The use of agricultural chains in modern drone and UAV-based farming applications exemplifies the synergy between traditional agricultural practices and cutting-edge technology. These chains enable drones to perform intricate tasks with precision, revolutionizing farming methods and providing farmers with valuable insights for better decision-making and sustainable crop management.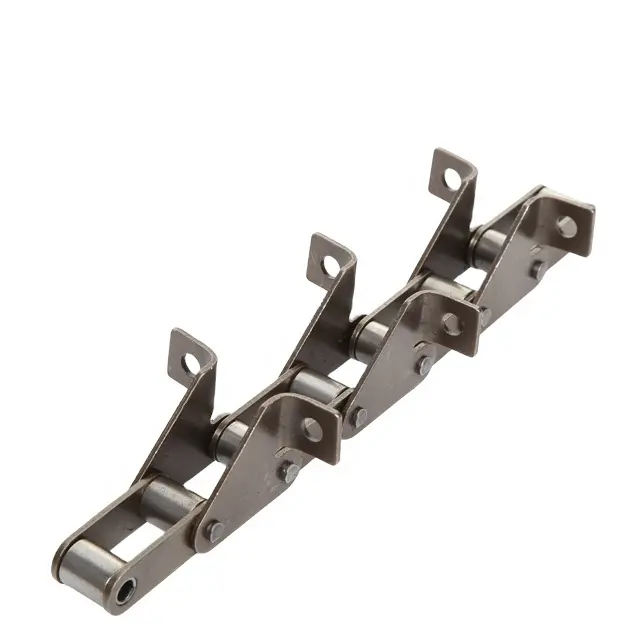 What are the best practices for maintaining agricultural chains?
Maintaining agricultural chains is essential to ensure their longevity, reliability, and optimal performance in farming operations. Here are some best practices for maintaining agricultural chains:
Regular Inspection: Conduct routine visual inspections of the chains to check for signs of wear, damage, or misalignment. Look for elongation, corrosion, and broken links.
Lubrication: Proper lubrication is crucial for reducing friction and wear. Follow the manufacturer's guidelines to apply the right type and amount of lubricant regularly.
Tension Adjustment: Maintain the correct tension in the chains. Loose chains can lead to jumping or skipping, while overtightened chains can cause premature wear.
Cleanliness: Keep the chains clean and free from debris, dirt, and crop residues that can cause abrasive wear and damage.
Environmental Protection: Store agricultural equipment in a dry and covered environment when not in use to prevent rust and corrosion.
Replacement of Worn Parts: Replace any worn-out or damaged components, such as sprockets, pins, and bushings, as they can affect chain performance.
Proper Use: Operate agricultural machinery within recommended loads and operating conditions to avoid excessive stress on the chains.
Training and Operator Awareness: Train equipment operators on proper chain maintenance and raise awareness of the importance of regular inspections and care.
By adhering to these best practices, farmers and agricultural equipment operators can maximize the lifespan of their agricultural chains and minimize downtime due to chain-related issues. Regular maintenance not only enhances chain performance but also contributes to the overall efficiency and productivity of farming operations.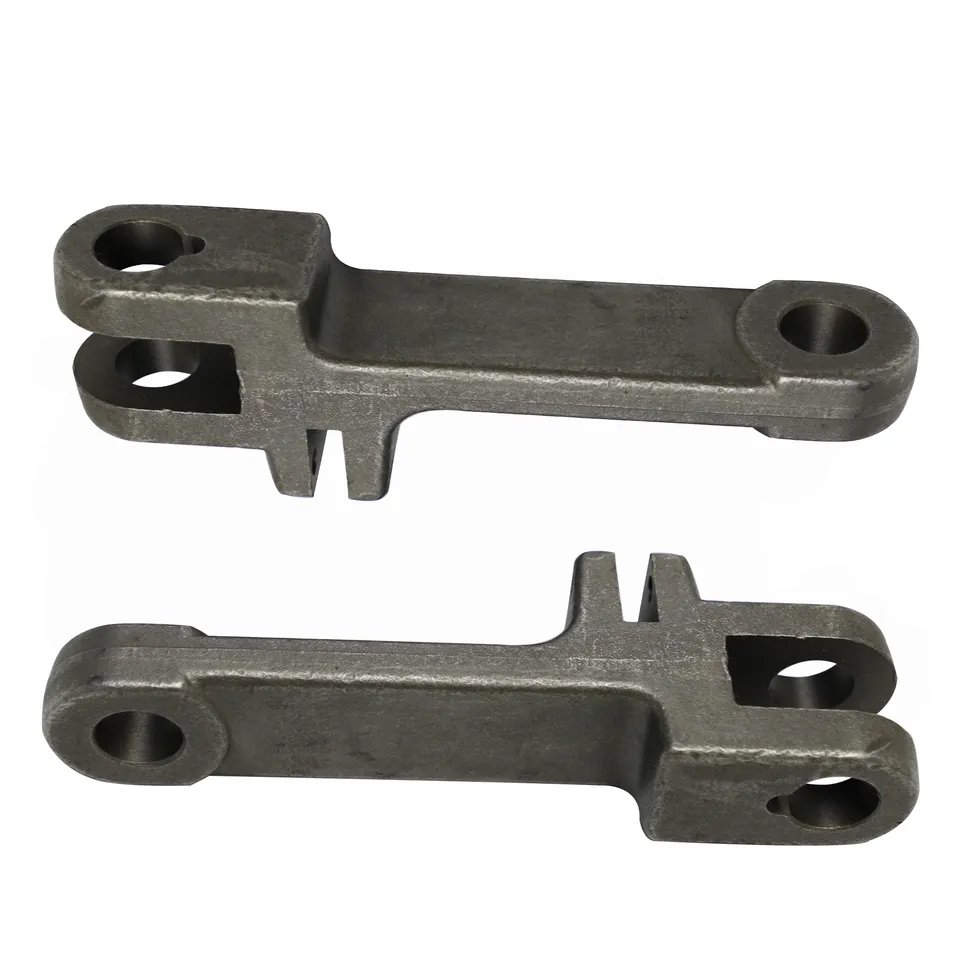 What materials are commonly used in manufacturing agricultural chains?
Agricultural chains are manufactured using various materials, each offering specific characteristics suitable for different farming applications. The most commonly used materials include:
Carbon Steel: Carbon steel is a widely used material for agricultural chains due to its excellent strength, durability, and affordability. It is suitable for general-purpose chains used in many agricultural applications.
Alloy Steel: Alloy steel chains are made by adding alloying elements to carbon steel, enhancing their strength and toughness. These chains are ideal for heavy-duty applications that require increased load-bearing capacity.
Stainless Steel: Stainless steel chains are corrosion-resistant and maintain their strength and appearance even in harsh environments. They are commonly used in applications where resistance to rust and chemicals is essential, such as in poultry and food processing equipment.
Plastic and Polymer: Some agricultural chains are made of plastic or polymer materials, which offer benefits like low friction, lightweight, and corrosion resistance. They are used in applications where noise reduction and low maintenance are priorities.
Galvanized Steel: Galvanized chains are coated with a layer of zinc, providing additional protection against corrosion. They are suitable for outdoor applications exposed to moisture and agricultural chemicals.
The choice of material depends on factors such as the specific agricultural application, the operating environment, required strength, and budget considerations. Manufacturers select the appropriate material to ensure that the agricultural chains can withstand the demanding conditions of farming operations and contribute to the overall efficiency and productivity of the equipment.



editor by CX 2023-08-30